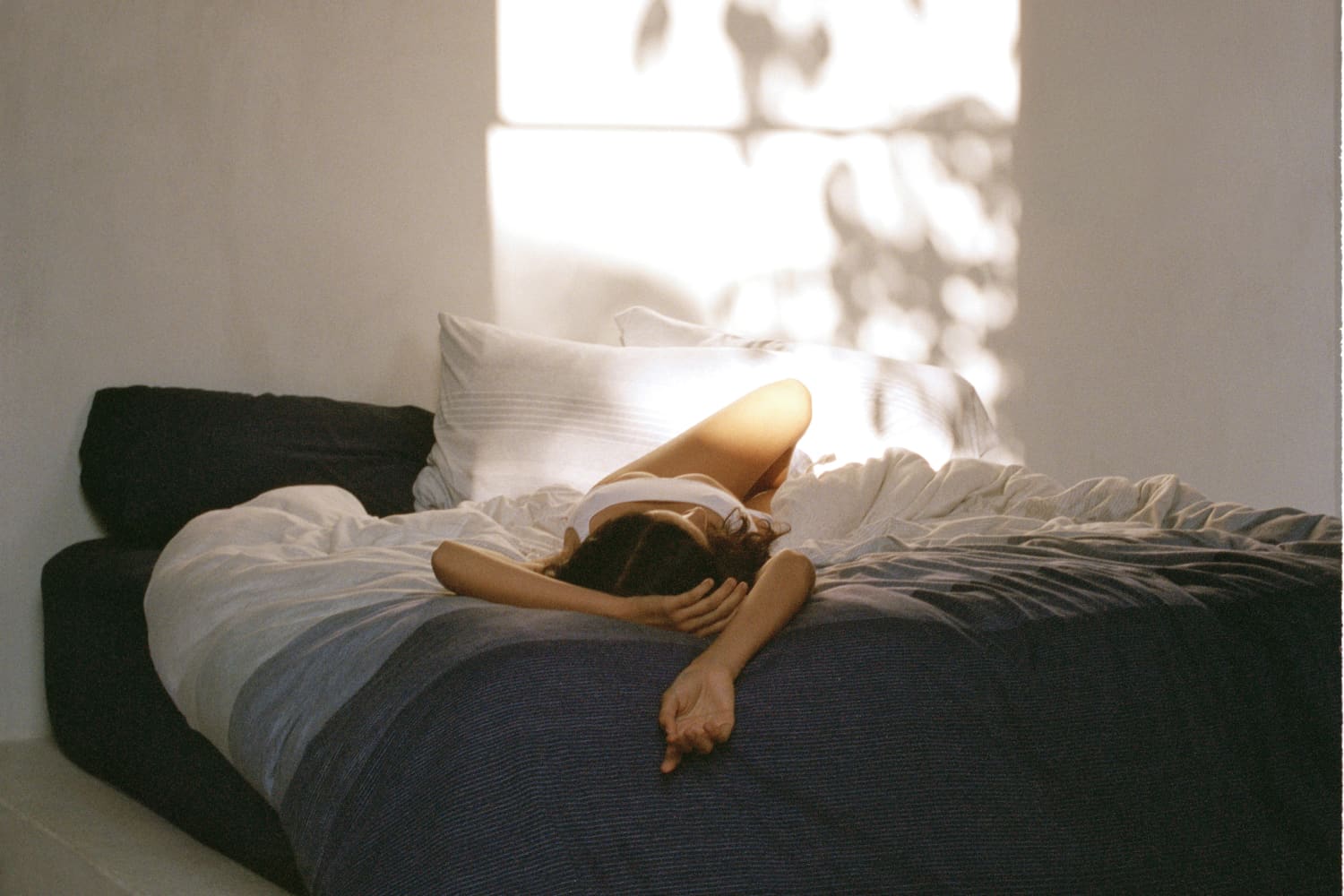 published about 12 hours ago
We often want our bedding to do different things at the same time: Look cool and collected when it's made for the day, then be irresistibly snuggly when it's time to sleep. What's the best way to add that comfy factor without creating clutter? Our vote goes to warm minimalism: a design style that takes the serenity of a well curated, pared-down space and chooses textures and colors that keep the space accessible and welcoming. Warm minimalism is all about adding touches of softness — perfect for the bedroom!
Designers are taking note, too, predicting this trend will be big in 2022. To add a warm minimalist touch to your bedroom, check out these three distinct approaches, all using beautifully simple bedding from Calvin Klein's Home Collection. Their soft and stylish sheets, duvet covers, blankets, and more come in the neutral tones and cool colors that give your bed an elevated look (plus their fabrics feel as comfy as your favorite T-shirt). Use our three style equations below to find your perfect fit — no math required!
#1: Add luxury (and warmth) through texture
While warm minimalism is about living with less, there's one thing you can never have too much of: texture, texture, and more texture. Using a mix of materials brings a sense of luxury to your bedroom and gives traditional minimalism that extra je ne sais quoi. Texture can come in the form of a tufted pillow, a soft knit throw blanket or striped sham, a terracotta bud vase on your bedside table, a luxurious duvet cover, or even a wood-grain bed frame. When it comes to accessories, a simple rule of thumb is to ditch cooler-toned materials like marble and choose warmer options like clay and brass. Don't overlook the importance of texture when it comes to your sheets, either. Is there a better feeling than tucking into a perfectly-made bed with ultra-luxe cotton sheets?
#2: Show your personality with natural colors
Hear us out: color is our FAVORITE part of the warm minimalist aesthetic. Why? Because once you decide on a palette, you can pick any colors within it and feel confident they'll work great together. When choosing colors, go for natural tones like ochre, cream, sage, and navy (think any nice hue you'd find on a walk through the forest). These earthy colors all sing together while having the added benefit of grounding your space. If you want to go with an already curated design, this decadent knit striped duvet pairs well with the Harrison flat sheet and fitted sheet in navy. This chevron throw in navy is a versatile piece that would look good with literally any bedding set!
#3: Create interest using patterns
One of warm minimalism's perks is that it lets you show off your personality through small (or big) details. Incorporating a show-stopping pattern like this floral print duvet is a way to have more fun with your minimalist look without overwhelming the space. We love that the design is timeless and neutral, but still conveys a very specific aesthetic. Better still, it's reversible, so if you decide you want to switch things up, you can flip to its solid grey color and instantly transform your bedroom. Try coupling a bold item like this with classic tones and fabrics (such as this Calvin Klein body fitted sheet, body pillowcase, and body flat sheet in grey).