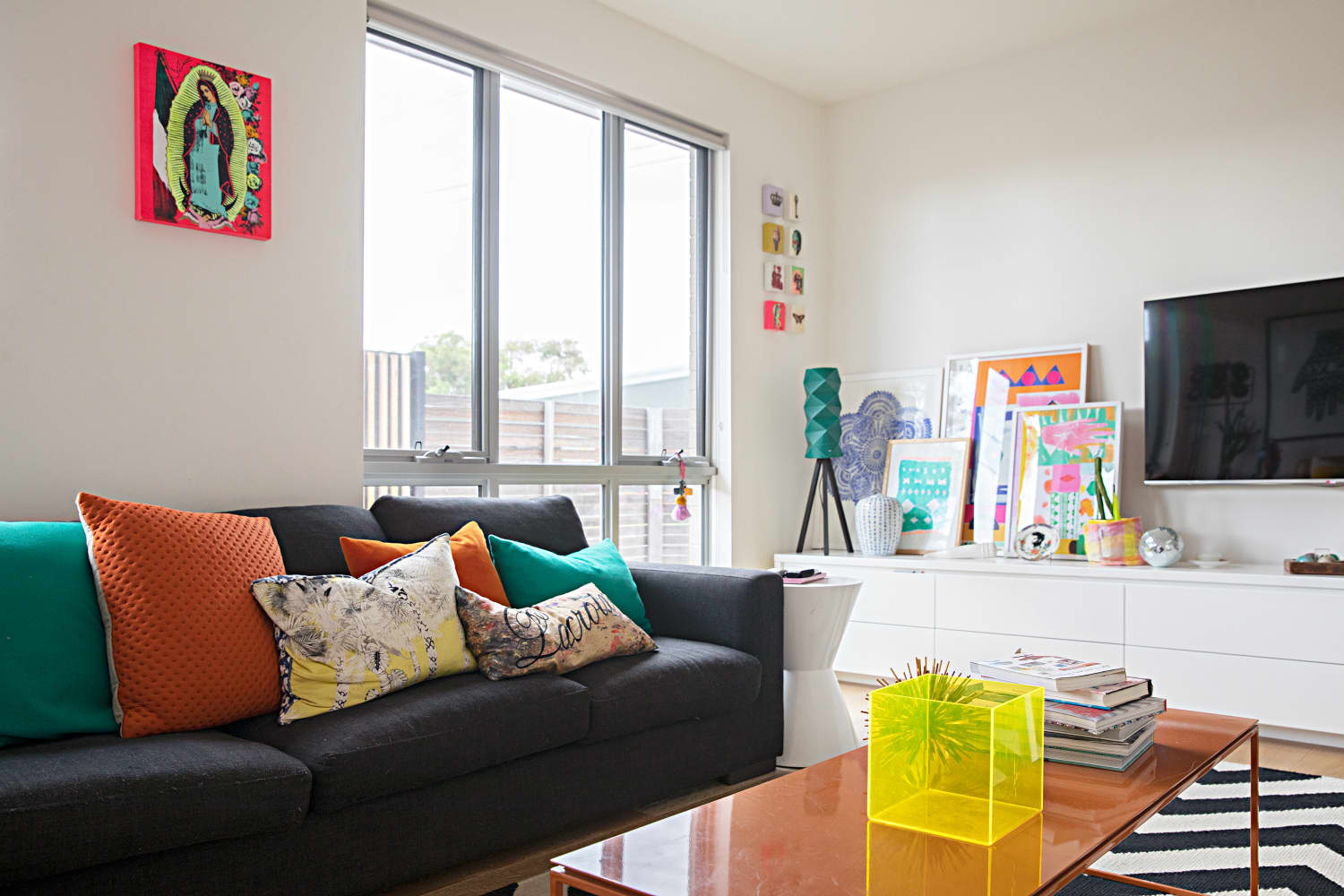 We independently select these products—if you buy from one of our links, we may earn a commission.
As December draws to a close, we at AT are taking a look back at what we've been up to since January. There were new houses to tour, old decor to repurpose, and style-centric TV shows to stream. We decorated, we decluttered, and we dated. But one of our absolute favorite things from the past year has been discovering new (or relatively new) home design brands and bringing them to your attention. From a Japanese company famous for minimalism to a boho-chic shopper's paradise, these are the home design brands we fell in love with in 2021.
Harmati blends the mid-century modern and Scandinavian trends for a collection of comfy, practical pieces that fit any budget. The line currently offers everything from wall mirrors to standing desks, and each piece is big on of-the-moment style and small on… well, just small period. Designed for all renters and homeowners with limited square footage, Harmati's line includes scaled-down dimensions and storage solutions in an array of color and finish options to suit your interior style. Best of all, the collection looks straight out of a West Elm showroom — albeit for a small fraction of the price.
Based in Harlem, New York, the female- and Black-owned 125 Collection is successfully making its mark on the very competitive candle scene thanks in large part to its relatable messages. "The idea started as a way of being encouraged around my house," Valerie Wray, 125 Collection's co-founder and CEO, told AT. "I love candles and fragrances and wanted to create a sense of peace in the home that was encouraging and uplifting." What began as a personal passion project has since expanded into a full line of luxury, vegan candles that make absolutely perfect gifts — for yourself, someone else, or both — especially during a time when everyone can use a little bit of extra encouragement.
If you're a fan of West Elm or CB2, direct-to-consumer furniture retailer Castlery will be your new go-to spot for pieces that have the look of both. By cutting out the middleman and stocking a tightly curated collection of pieces, Castlery can charge less for their items without compromising on style, silhouette, or quality. In general, items skew mid-century modern, but you can find some more contemporary, trendier gems in the mix, too. Says home editor Danielle,"If you're looking for a sofa, accent chair, or even a wooden coffee table, I'm willing to make a bet that something here might catch your eye."
If you're one of those people who loves high-quality, great-looking furniture but doesn't quite love the process of buying it, allow us to introduce Albany Park. The direct-to-consumer sofa brand offers three customizable models designed to cover every shopper's needs. Plus, they deliver for free right to your door. The company even designs its packaging to be compact enough to maneuver in tight apartment building hallways and elevators. Assembly is required, but assistant shopping editor Britt appreciates how easy it will be to take with her when she's ready for her next apartment. "Being able to break down this sofa into parts that are so much easier to handle will make moving it a breeze."
Joseph Joseph is one of our favorite brands for so many reasons. The home brand makes genius space-saving solutions, ergonomic cleaning tools, and helpful cooking gadgets that make kitchen chores a breeze. You might even recognize their colorful rolling pin from "The Great British Bake Off". And no matter what you're buying, from toilet brushes to drawer organizers, it's always sleek and stylish.
For eye-catching pieces that will instantly upgrade your space and go easy on your wallet, look no further than Main + Mesa. The Amazon-exclusive brand offers everything from wall art and shelves to throw pillows and planters that perfectly embody boho-chic style. In the Main + Mesa shop, you'll find earthy colors and materials, like terra cotta planters, funky geometric prints, and rattan, all at affordable price points. Says AT contributor Grace, "Be warned: Scrolling through this shop might have you clicking "add to cart" again and again (and who can blame you?)."
With research showing a direct correlation between technology use and poor sleep, making your bedroom a "screen-free zone" is an important step towards getting a good night's rest. And since that's hard to do if your phone doubles as your alarm clock, it's time to invest in a Loftie Alarm Clock, a smart device meant to help you both unwind before bed and wake refreshed. With features including a clock, sound machine, breath work exercises, and a nightlight, this stylish wellness tool incorporates the essential tech you may need at night while keeping all the distracting parts (emails, texts, and late-night doomscrolling) in another room — where they belong.
For minimalists with minimal space, Yamazaki is an absolute dream. The Japanese brand specializes in streamlined, very pretty storage and decor, with most products coming in simple colors (usually black and white) and featuring light wood accents. Need airtight storage solutions and stylish dish racks for the kitchen? Yamazaki has tons. Bathroom too cluttered and messy? Score sleek toothbrush storage and over-the-door hooks for the bathroom. Looking to sort out the mess in your bedroom? Check out a delicate-looking jewlery holder or a multi-tier shoe rack. Since the brand is also available at retailers like Macy's, Nordstrom, and Amazon, there's a good chance you'll always find what you're looking for.
Okay, okay, so One Kings Lane isn't exactly new to the e-commerce scene, but we rediscovered the brand this year and think you should take another look, too. We're especially in love with their English rolled arm sofas, like the Merrimack Sectional shown above.