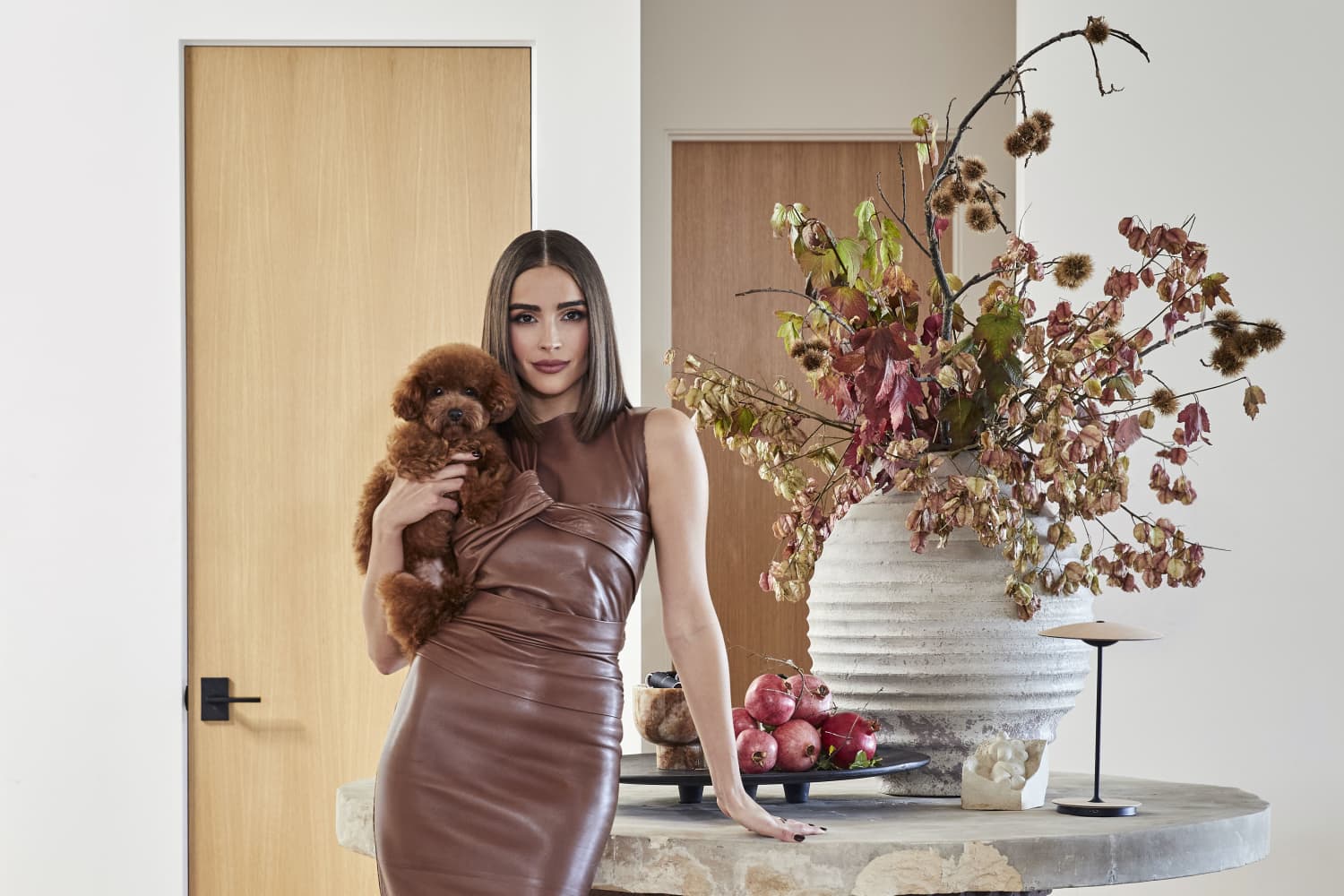 published about 4 hours ago
She's a former Miss Universe, and Olivia Culpo's new Los Angeles home is fit for a queen. 
The fashion influencer previously lived in a 1,300-square-foot Hollywood loft filled with pink decor, but was ready to find a quieter sanctuary for herself.
"I lived in Hollywood right in the thick of it, in the middle of all the noise, and I realized I really wanted something that felt more calming, like a sanctuary almost," Culpo told Architectural Digest. "A respite from the city."
She chose a new five-bedroom house in Encino, with plenty of space for her family who frequently visits from Rhode Island. Of course, furnishing the property would take a bit longer than the buying process. Along with Jess Diab, Culpo completed the home's decor piece by piece, gathering new and vintage elements they spotted everywhere from showrooms to online secondhand stores. That includes the entryway's table, made of a vintage limestone wheel formerly used to crush wheat into flour. In the front living room, Culpo ditched the previous navy blue walls for dreamy white. Helmed by a marble fireplace, it features massive windows towering up to the ceiling and vintage calf hair chairs. Flanking the fireplace are iron cabinets, one of which contains a century-plus-year-old cello Culpo's parents bought her as a child.
"I've played my whole life, so that's kind of like the music room," Culpo said. "My mom plays the viola, so when she comes to visit we play together in that room."
The living room opens to an outdoor lounge via glass pocket doors, and Culpo loves to play records there with her boyfriend, football player Christian McCaffrey.
Another unique space is the formerly dark gray screening room, which is now a billiards area. There's a new marble backsplash and cabinetry, as well as fun touches that are important to Culpo, like a hand-drawn map of her home state, Rhode Island. The room features a mohair sofa, a serious "commitment and investment," as well as a tan-topped RH table and caramel leather vintage chair.  "I feel like I took the most risks in that room and to see it come together so perfectly was really, really rewarding," says Culpo, who considers herself a pool shark.
In the primary bedroom, Culpo went for cooler, sophisticated tones, like an iron canopy bed and vintage bouclé chairs. Exuding the utmost glamour, Culpo said she didn't want that style throughout the entire house, but I felt like I allowed myself to have that moment in the bedroom."
And considering Culpo is a big-time influencer, it's only fitting that the huge closet in the primary bedroom is a vital component. One feature anyone with a sibling will love is the locking door that keeps her younger sister out of the closet. (It's also where you'll find her massive fashion collection, as well as her tiara and crown from her Miss USA and Miss Universe wins.) A balcony off the bedroom features a green Kelly Wearstler table gifted to Culpo by her boyfriend. 
Like many of us, Culpo scored inspo for her outdoor space from Instagram. It's where she saw her swinging Magnolia Porch Swings daybed, which her pup, Oliver, loves to lounge on. The social space is a popular spot for fire pits and cocktails, especially since it's the outdoor continuation of the billiards room.  A large outdoor dining table was also a must, especially since Culpo's four siblings love to stop by for barbecues. A sparkling swimming pool surrounded by chaise lounges has a beautiful view of rolling hills. 
"I wanted this house to feel very calming, because I felt like I needed that mentally," said Culpo, who considers the process of furnishing her space to be indicative of her own maturation. "It's a project that will continue forever," she said. "I love it, I'm addicted. I now have the bug!"