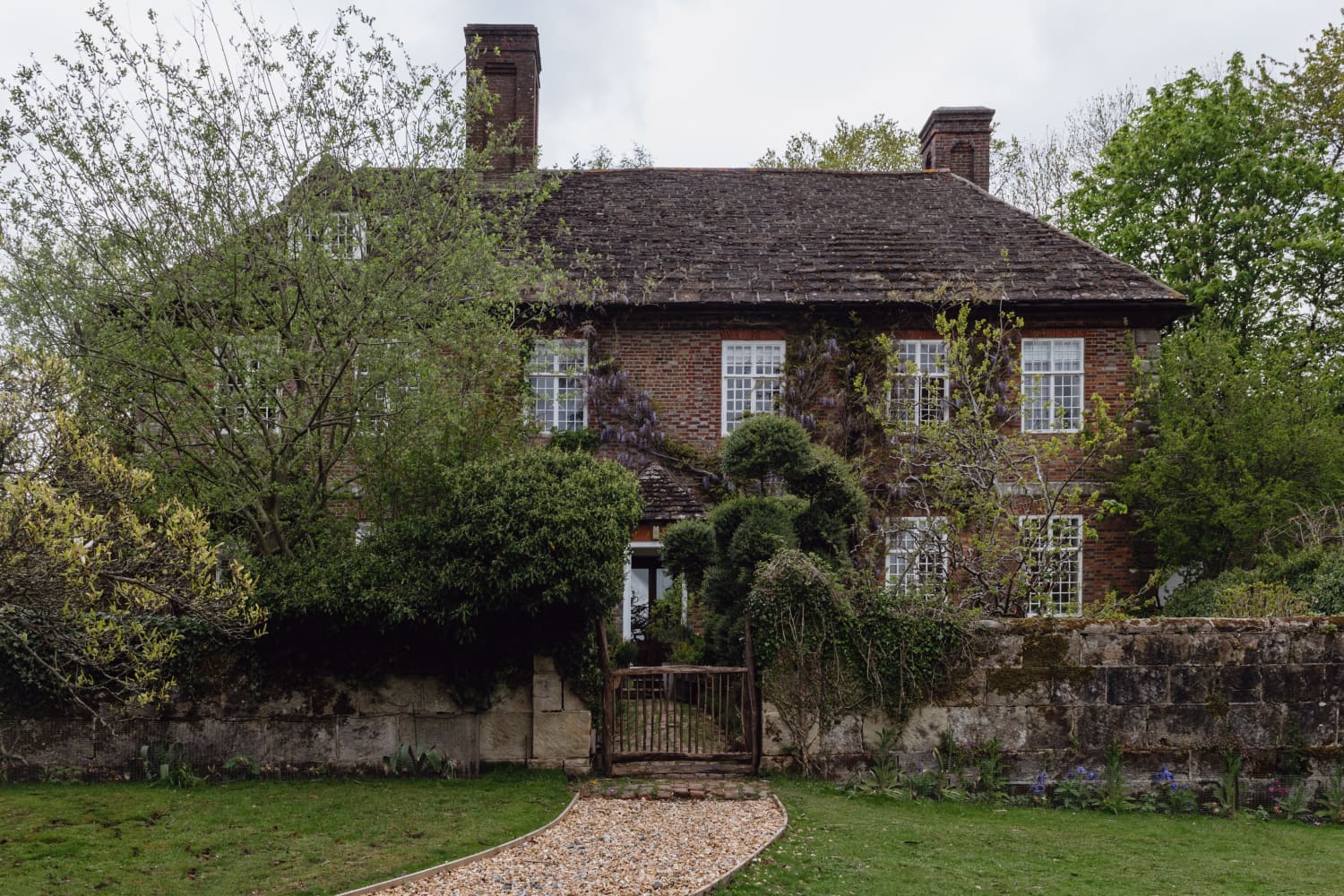 published about 1 hour ago
We independently select these products—if you buy from one of our links, we may earn a commission.
Name: Alex Willcock, co-founder of Maker&Son, along with the kids during the holidays and every other weekend: Song is 18, Otti is 16, and Hero is 12. Freddie (his godson) is also here four or five days a week and works for Maker&Son. There's a border terrier called Nutley. And they also have chickens, ducks, geese, and a guinea pig.
Location: Kemps House is located in West Sussex
Type of Home: Grade II listed country home, dating back to the 1660s.
Years lived in: 16 years, owned
Alex Willcock and his son, Felix Conran (who is the grandson of the late Sir Terence Conran), are the co-founders of British furniture and homewares brand Maker&Son. And Alex's home — a Grade II listed country house in West Sussex dating back to the 1660s known as the Kemps House — is full of gorgeous furniture and beautiful paint colors. And if it looks familiar to you, it may be because much of the Maker&Son furniture photos are shot here!
"It was one of those things where you instantly fall in love with the house the moment you see it," writes Alex. "I walked in and just knew I wanted to live there. I loved the light and the spaces. The proportions of the rooms are quite quirky and the living room, unusually, has five entrances, which makes it the absolute heart of the house. The staircase is also beautiful. The scale of it and the fact that those boards — those treads — have been there since the 1660s. I love to imagine all of the feet that have walked up and down those stairs. All of the hopes and dreams and thoughts of people heading up to bed or down for breakfast."
"My mission from the very beginning was to create a home my children would enjoy spending time in. Over the past 16 years of living here, the spaces have proved extremely flexible, and each room is constantly evolving. Nowadays, a room can change its entire look from one week to the next as we do different staging for our various photoshoots. Comfort is of course a real priority to us all, and the entire house has a warmth that comes from a place of positivity and possibility. You see, we're always doing something new — in a funny way, the juxtaposition of an old house and lots of newness seems to really work," explains Alex.
"Kemps is one of those houses that is full of surprises and adventure all year round," Alex continues. "From the constant power cuts in winter that bring on a house full of candles and open fires, to summer's wisteria covering the south side of the house with its heavenly scented purple throngs and of course the sea of bluebells in the woods. Every week brings something new."
Apartment Therapy Survey:
Biggest Challenge: In winter, the windows upstairs by the staircase used to leak so badly that if you sat in the living room, it felt like you were sat in a storm. We used to have massive, thick curtains and even with that weight, they would billow out. They were very old leaded windows and we eventually had to have them redone.
Proudest DIY: The only thing we really changed was the kitchen. When we first moved in, the kitchen was not really a kitchen it was a second living room and then a small scullery kitchen. We therefore changed that back into one room and it was made into a larger family kitchen.
Is there something unique about your home or the way you use it? Kemps doubles as the Maker&Son showroom, which can sometimes be quite odd. What I like about it is that it is constantly changing and there is always a new sofa or new colourway somewhere being shot for the website or our Song Magazine. It is also nice to get a whole different kind of interaction with your customers, just coming down and having a chat with them when they visit the showroom. It helps you understand what it is that people find appealing and not just within the furniture but within the brand itself.
What we try to do for the weekends is make sure that the main rooms that we spend time together as a family in are somewhat similar to what they looked like last time we were all together. I think one of the things I find most difficult is that all our stuff gets moved around. That's probably the most challenging bit; notebooks and books and tools that I can't find end up turning up a few weeks later.
What are your favorite products you have bought for your home and why? A collection of antique ceramics bought from Ardingly Antiques Market. I love Georgian white stoneware.
Please describe any helpful, inspiring, brilliant, or just plain useful small space maximizing and/or organizing tips you have: Buy an old piece of furniture and reappropriate it to be used in a new way for storage. Take it out of its original context and try putting things inside of it where they may not usually go. Especially if you can find something interesting with pattern, it works so well.
Finally, what's your absolute best home secret or decorating advice? Choose objects that have clearly been made by someone, a craftsperson, because you can really feel that in a room — the story it tells is reflected in some way. When objects are made with love and care and attention to detail, something changes the way room the feels.
Secondly, the floor makes the most enormous difference; it really is the foundation of how an entire room feels. Spend as much as you can on that area and build upwards from there.
This house tour's responses were edited for length and clarity.