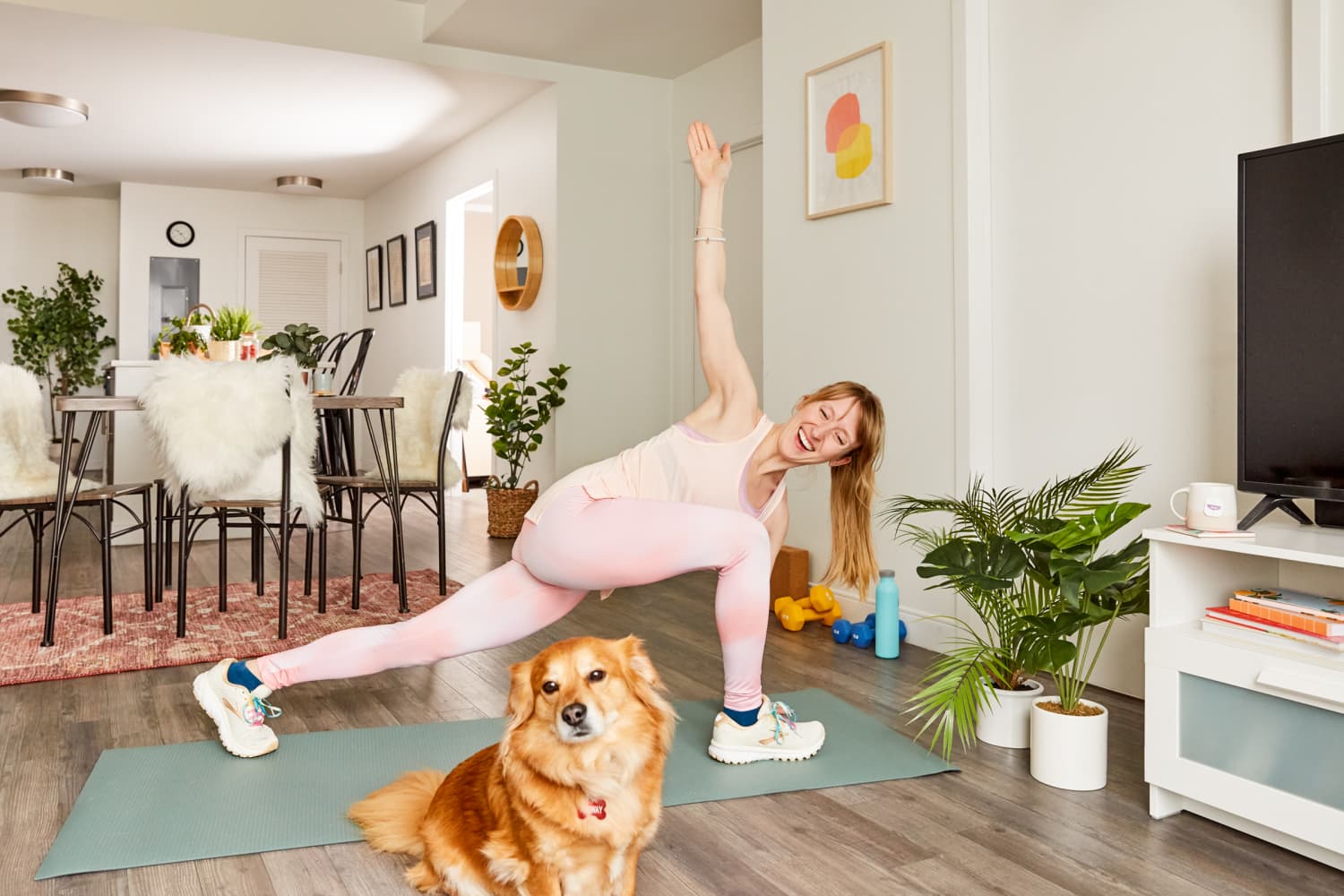 Happy Place is a brand-new editorial series dedicated to helping you live your happiest, healthiest life at home. Every week for 4 months, we're sharing quick, doable, and not-at-all-preachy tips that wellness pros, home decor experts, and Apartment Therapy editors actually use (really!). Sign up now to get 16 weeks of actionable advice in your inbox.
This issue of Happy Place is presented in partnership with Yogi Tea.
From baking sourdough to doing puzzles, we all got super into some activity during the pandemic. For Apartment Therapy Entertainment Editor Nicoletta Richardson, it was fitness. Richardson already loved running and feeding her body healthy, nourishing foods. But during lockdown, she took it a step further and became an AFAA-certified group fitness instructor. Now, in addition to following her own fitness routine, she leads online workouts to help others make exercise a part of their daily lives.
To support her new teaching schedule (and expanded workout habits), Richardson created a fitness nook in the apartment she shares with her husband. It's the place where she stores her equipment, rolls out her mat to teach a class, and partakes in one of her new favorite workouts: lifting weights. Having a corner of her home dedicated to fitness keeps her inspired and helps her start the day on a positive, energetic note.
"Being healthy at home means establishing a routine and environment that fuels your well-being," she says. "I feel healthiest when I get into a rhythm of working out in the morning, showering, and getting myself cleaned up for the day ahead."
We asked Richardson to share her best advice for how we can develop our own wellness routines at home — without spending a lot of dough, rearranging our homes, or completely overhauling our already busy schedules. Read on (and listen in) for her top tips.
Carve out a space for your workout essentials, even if that's just a towel or mat in the corner of your living room or office. "It allows you to know that you've thoughtfully created space for physical fitness in your life — and that it is part of your home," Richardson says. Plus, when everything is ready for you, it's even easier to fit that workout in.
If you hate your workout, you're not going to keep showing up. From barre to yoga, spinning to HIIT, Richardson recommends auditing free classes on YouTube or Instagram to get a sense of what gets you moving. And leave room to be surprised by what you like! Richardson always avoided lifting weights, but after following a personal trainer's program, she fell in love with them. "Now, I lift heavier weights and way more often than I would have ever imagined — and my body and mind thank me for it!" 
Don't Forget to Fuel Up
Stay motivated with an energizing snack or beverage. By nourishing your body with wholesome flavors you love, you'll set yourself up for even more success. On days when she's teaching online classes, Richardson enjoys a cup of Yogi Sweet Tangerine Positive Energy Tea. With notes of lotus flower and an invigorating blend of Assam black tea and yerba maté leaf, it's a gentle boost of energy.
Make Exercise Easy — and Quitting Difficult
Be your own accountability buddy! "If you're working out in the morning, sleep in your workout clothes," Richardson says. "If you work out in the evening, wear your workout clothes as your day clothes (if possible)." And if you really need a nudge? "Sign up for a class that has a strict cancellation policy!"
[AUDIO UNIT HERE: The audio file, based on the approved copy, will be included in the next round.]