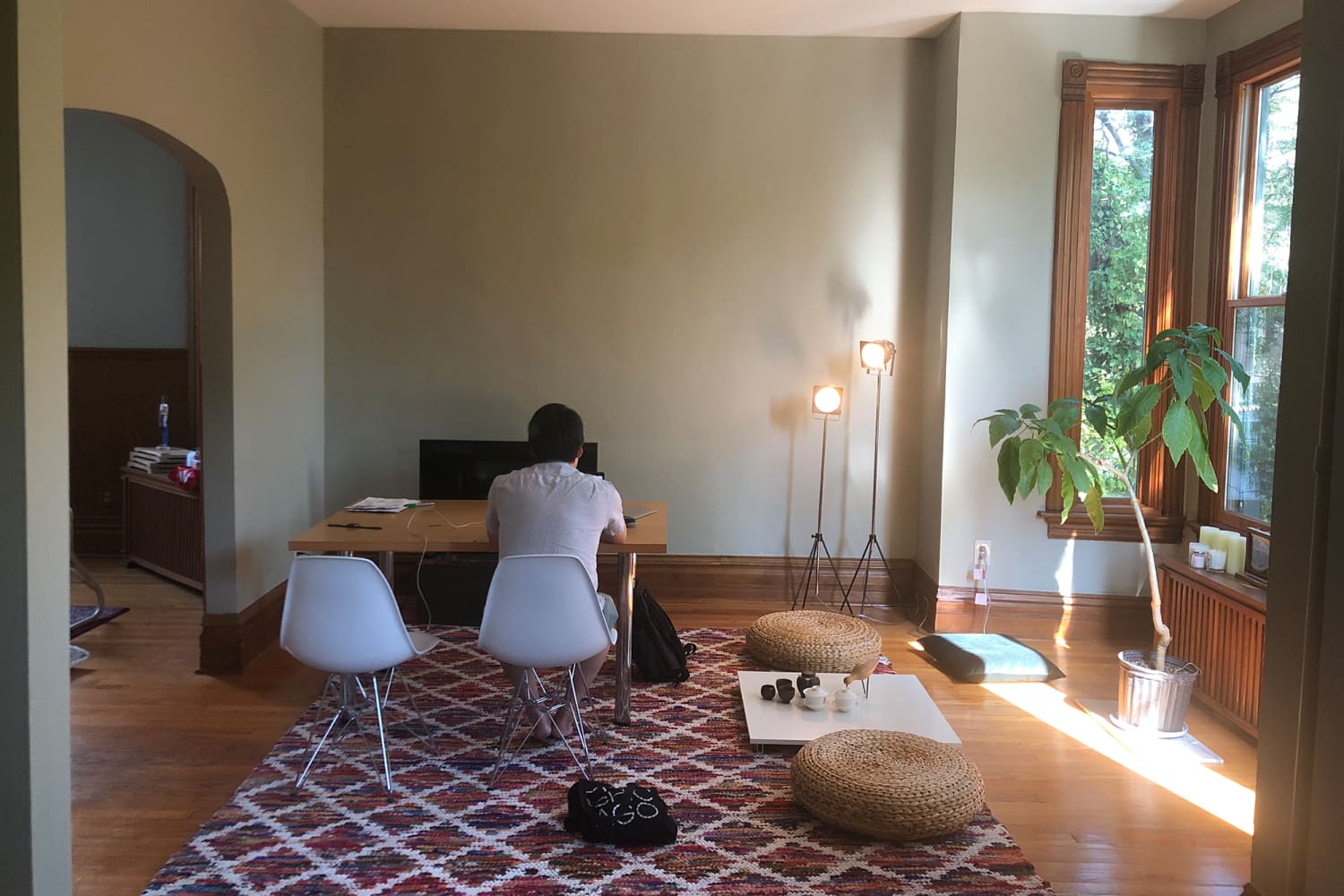 We independently select these products—if you buy from one of our links, we may earn a commission.
Name: Annabell Ren and Steven Karvelius
Location: Lincoln Park — Chicago, Illinois
Size: 900 square feet
Type of Home: Condo
Years lived in: 2 years, owned
Creative couple and designers Annabell Ren and Steven Karvelius are two thirds of Chicago-based architecture office, NEW OFFICE (they cofounded it with friend and designer, Elliott Riggen). The office specializes in architecture, furniture, and small renovations, and Annabell and Steven's own home — a 900-square-foot Lincoln Park condo they found it on Redfin when they were home hunting about two and half years ago — is an amazing showcase of the team's work.
"As architects, we didn't want to build a new home in the city, but instead find an existing historical structure to work with. There are plenty of beautiful old homes in Chicago that just need some time and attention to bring out their original beauty," Annabell writes. "It's a 120-year-old historic four-flat. Our unit is on the 2nd floor. With its tall 10' ceilings, south-facing windows and beautiful historical hardwood floor and cabinets, it has beautiful natural light throughout the entire day. The building is in a residential neighborhood in the city, but the windows are all hidden behind the top of tree branches which capture a view of greens. The living room is filled with light and shadow of dancing tree branches blown by the Chicago wind."
"After we closed this home purchase in 2019, the pandemic came into our life. This home became the place we had to live in 24 hours and the place we had to work from. We jokingly call it our 'Covid project' as architects. We spent our weekends and nights looking at our life routine, designing the space and building the built-ins while we couldn't go outside. The only reason for us to go out was a trip to Home Depot to curbside pick up our construction materials. We spent all our time in the living room, dining, and kitchen designing, drawing, building, cooking, and imagining the day Covid would be gone and we can have our friends in this space."
Apartment Therapy Survey:
My Style: Function = Fun + Function
Inspiration: Materiality, craftsmanship, and space play with light.
Favorite Element: There's a balance and contrast between the original dark woodwork and the newly constructed red oak.
Biggest Challenge: Upon move-in, the unit interior was dated and there was very limited storage space. Much of the original woodwork still existed throughout the unit.
Biggest Indulgence: Our time. We managed the cost of materials, but we put a lot of time into the design and building process. We redesigned a lot and spent a lot of time figuring out the details and structure to hide all construction joints. It was so worth it. This is the main reason all designers love what they do: seeing a design that was once only imagination come into real life.
Is there something unique about your home or the way you use it? The two full-height millwork pieces take advantage of the ten-foot-tall ceilings but offer much more than just storage. They're also used for seating, naps, and lighting. Playfully painted wall murals transform a dated dining room into a multi-functional gallery and dining space. Each shape was created by projections onto different corners and surfaces of the room. When viewed from one vantage point, the shapes are a perfect circle, but from anywhere else, they're stretched, squeezed, and warped. Utilizing chalkboard paint for the murals allowed us to record messages and sketches for our daily life. 
What are your favorite products you have bought for your home and why? The furniture comes from many different places and was procured in many different ways. There are secondhand nesting Kartell coffee tables, auctioned Ufficio Tecnico Spoleto dining chairs, IKEA rugs, and EQ3 lighting. These Kartell coffee tables we found in a secondhand modern furniture store. It is made of three different round tables of different heights. It can be used by stacking on top of each other to become one table and three different tables.
Please describe any helpful, inspiring, brilliant, or just plain useful small space maximizing and/or organizing tips you have: With this kind of historical building, usually the ceiling is 10'. Built floor-to-ceiling storage can save you a lot of space in plan.
Finally, what's your absolute best home secret or decorating advice? Reuse secondhand. Craigslist, Facebook Marketplace, local vintage stores, and local auction houses are all great places to go find pieces that can be reused in your home.
Thanks Annabell and Steven!
This submission's responses and photos were edited for length/size and clarity.