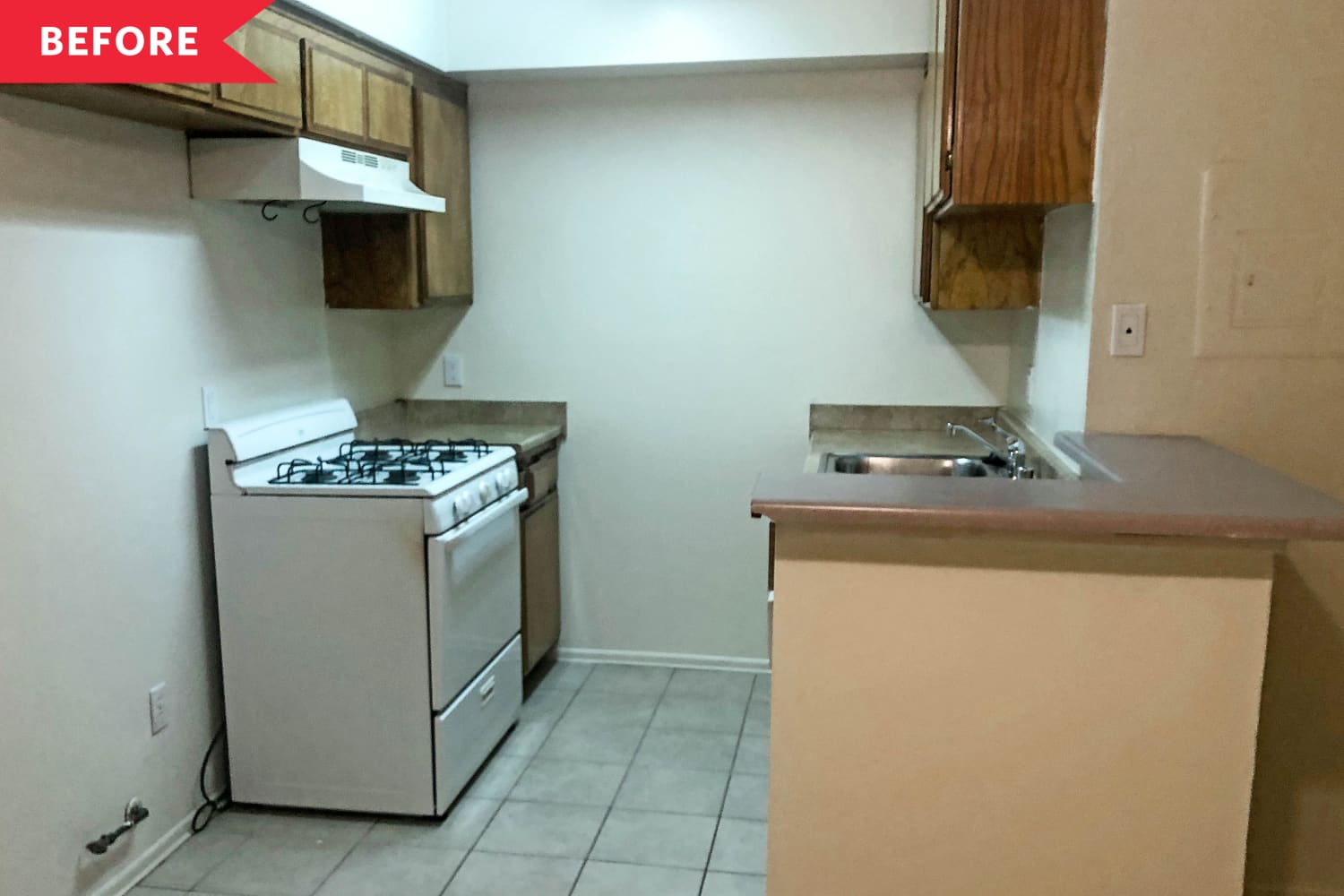 Sticking firmly in the camp of optimism, a rental apartment is a shot at creative expression. Sure, you can't always paint the walls, change the fixtures, remove the tiles, or even choose the next door neighbors, but what's artistry if not pushing forth a vision anyway? With the right mindset and perhaps a few workarounds, it is possible to turn even the saddest state of an apartment into a cozy retreat. Just ask the renters we featured in the past year. 
As they approached the fixed details of greasy ovens, dirty grout, blank walls, and cramped spaces, they didn't try to get their deposits back. Instead, they considered solutions that not only rectified the problem, but also made it so their home felt like a comfortable mirror of their personalities. Our favorite rental stories of 2021 should be a glass-half-full showcase of budget-friendly and approachable DIYs that push the limits of what an apartment can be. Even if a rental isn't forever, that doesn't mean it never has to reflect your style — and it's totally possible to build something beautiful while still following a landlord's rules. 
Read on to see how these six renters leaned into creative expression to make their apartments feel more like homes.
A Kitchen Is Modernized With Some Much-Needed Elbow Grease
Most renters rarely feel the need to put much energy into a complete overhaul, particularly right after signing a lease. But that wasn't the case for Alyssa Murphy, who moved into this apartment quickly and then had to contend with its sparse and crumbling kitchen. She'd never painted anything before in her life, but she covered the cabinets and walls in Benjamin Moore's "Super White," and added gold hardware. She also used peel-and-stick prints for the backsplash, floors, and countertops, transitioning this kitchen from "yuck!" to "yes please!" with her bare hands. 
Dirty Bathroom Tiles Get a Second Chance in a Newly Stylish Bathroom
When architect and interior designer Valentina Stincone first saw the state of her rental bathroom, she knew the previous renters hadn't spent much time cleaning it. Not only was the grout black, but the walls were stained, too — gross. She decided to embrace the bold orange tiles, opting to meticulously clean them and see what other design accessories she could incorporate into their palette. Over one weekend and for less than $100, Valentina also painted the walls and added decals, making for a bathroom that looks like a jewel box during her tenure. 
A Bland Entryway Is Painted Black for a Dramatic First Impression
Liz Brown has been slowly updating the rental she shares with her partner for years, but hadn't gotten around to her apartment's entryway until she realized it was more of a storage room than anything else. She knew its bare white walls were also making a bland first impression on guests, so she did a (rather controversial) upgrade and painted an accent wall black. With white and gold accents and a floor-length mirror, the entryway's dramatic feel is far from boring. 
A Dark Laundry Room Gets a New Layout for Much-Needed Light
MaCenna Lee couldn't figure out what to do about the state of her laundry room for quite some time, which is why it remained an overpacked "dungeon" long after she finished projects on the rest of her home. After giving some thought, and getting approval from her landlord, she figured out how to remove a cabinet so that her washer and dryer could sit side-by-side. That opened the room up to a window, and cream-colored walls made the space feel even brighter. New cabinets and modern accessories completed the project, and now it's anything but a design sore spot in her house. 
A Sparse Second Bedroom Becomes a Serene At-Home Office
Emily Neal lives in an old apartment with limited storage, and she sought to build a simple desk with cabinets on each side. She and her boyfriend decided they could probably do it for under $500, and focused on a wall in a sparse second bedroom as their canvas. She built the system with discounted IKEA PAX parts and plywood, and used MDF boards with arched cutouts to make them appear as though they reached the ceiling. Once a coat of sage green paint covered it all, gold accessories were installed for more layers of sophistication. Now the space is functional and charming, and Emily can use it however she'd like. 
A Bland Bedroom Get a Faux Headboard Full of Personality
Nicole Ellsworth had a typical rental bedroom problem: four white walls with zero personality. It became even harder to ignore once she started working from home, so Nicole decided to take one wall into her own hands. With $85 worth of materials, she created a faux headboard using wood slats, which she then coordinated with two matching sconces. She hung a photo at the center of the headboard, and suddenly, the entire room was full of charisma.