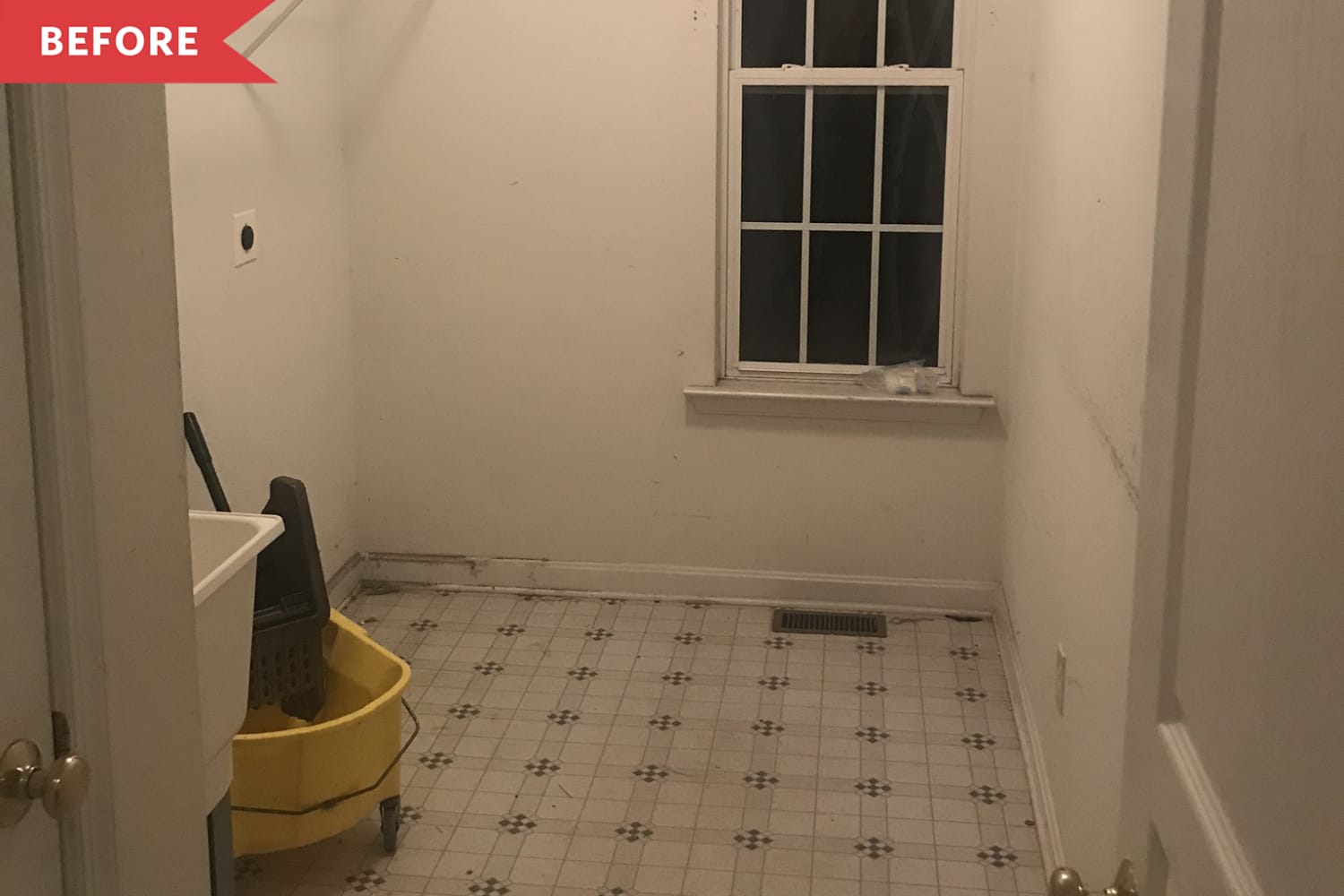 Laundry rooms don't always get the attention they deserve. But they keep entire households running, for starters, and they usually do so when crammed into tight quarters that everyone otherwise overlooks. It's not until countless hours of work have been logged and the strain prominently shows that they get noticed for what they're not doing right. And that's when things tend to change.
If laundry rooms could talk, they'd probably want some respect. No room sets out to be the sore spot of a home, and yet, these are the spaces that rarely get attention until it's desperately needed. So in honor of our deep regard for the lowly laundry room, here are seven renovations showcasing that they should get what they give. 
When a laundry room can have ample storage, nice countertops, pretty wallpaper, and maybe even some natural light, then that's a place that can actually compete with the affection given to an entryway or bathroom. These seven renovators are experiencing that realization first-hand, and their projects range in size and scope to motivate others to provide the same level of care. Read on to learn more about the seven best laundry rooms of 2021, and take this as a sign: Your own washer and dryer could probably use better surroundings, too. 
A Cane-Covered Cabinet Gives One Open Laundry Room Some Storage
Juliana Cordi had a laundry room in her 900-square-foot townhouse, which is always a major plus, but it also happened to be between her bedroom and the bathroom. The space became a de facto spot for clutter, and it took Juliana two years to figure out a solution that would define it but still make the area flow. She bought new stackable units — the old ones were loud! — and built a cabinet with cane fronts to go beside it. She installed the storage herself over two weekends, and now this li'l corner looks beautiful and functional. 
A Utilitarian Laundry Room Is Upgraded to Fit In With a Bohemian Home
Stephanie Yi's little laundry room was right off the kitchen, and it contained all the necessary but unsightly details of a home — like the water heater and exposed pipes — alongside her washer and dryer. The existing blue beadboard didn't coordinate with her otherwise neutral palette, either, and she was looking to create a space that felt clean and coordinated. Stephanie partnered with her husband, Jeesoung, to relocate the water heater, and fit a kitchen pantry in its place. She built a faux butcher block countertop to go over the washer and dryer, upcycled the existing shelf, and installed new wallpaper. Now the laundry room fits in with the rest of her home, and it only took a few weeks to accomplish. 
A Cramped Laundry Room Is Revived With a Clever Storage Bench 
Since Natasha's laundry room was stationed in her garage, it became a bottleneck in the mornings when she was trying to get her kids out the door. The laundry room also had no style, so when the pandemic hit, she decided to do something about it. She and her husband painted the existing cabinets in a warm shade of blue, and installed a new wood countertop. For the opposite wall, they put up a professional-looking storage built-in made from an IKEA TV unit and a wall shelf. Tongue-and-groove boards went up on the ceiling as the final touch, and now the room feels much airier. 
A Beige Laundry Room Is Transformed With a Much Brighter Palette
Megan Elbaum's laundry room used to be a '90s throwback with a beige-and-brown palette topped off with fluorescent lighting. It didn't feel good to be in there, and Megan wanted to change that. So she swapped the cabinets and installed Shaker-style ones with gold hardware, and then removed the uppers for a clean, white wall. She installed a wood countertop from IKEA, and picked out a patterned tile for the floors. The room now looks like it actually belongs in 2021, which is exactly what Megan was after. 
A Cluttered Laundry Room Gets a Bold Refresh in a Weekend
Gemma Gear's laundry room was located off her kitchen, making it prime real estate for an endless barrage of clutter. She wanted the space to match her maximalist look, so she spent a weekend painting surfaces aqua green and hot pink, and installed a black-and-white sticker pattern on tiles to offset a faux marble countertop. New shelves make space for storage, and animal print fabric hides the washer and dryer with style. Now the room is clearly defined, in more ways than one. 
A Couple Used One Wall of Their Guest Space to Build an Efficient Laundry Area
Jessica and Matt Gassaway turned their laundry room into a mudroom, so they needed somewhere to place their washer and dryer. The guest room had a wall that wasn't in use, so they saw an opportunity. They took their time to build a raised platform for their appliances, and then surrounded it with storage and features that make the cleaning process easier — like extra deep drawers for clothes. The entire project cost $950, and the couple loves how they rethought the layout of the room to fit their needs.
A Dingy Laundry Room Gets a Sophisticated New Life
Yamilec Branch wasn't wild about the laundry room in her home, located just off the kitchen. For one, it wasn't super practical, since storage space was so scarce. And besideds that, the whole thing just looked… blah. Yamilec's dad helped install new black-and-white porcelain floors, then Yamilec took on the rest: new cabinets, a new sink, vintage-y beadboard, and wood counters. Now the laundry room is stylish enough to actually keep up with the adjacent kitchen.