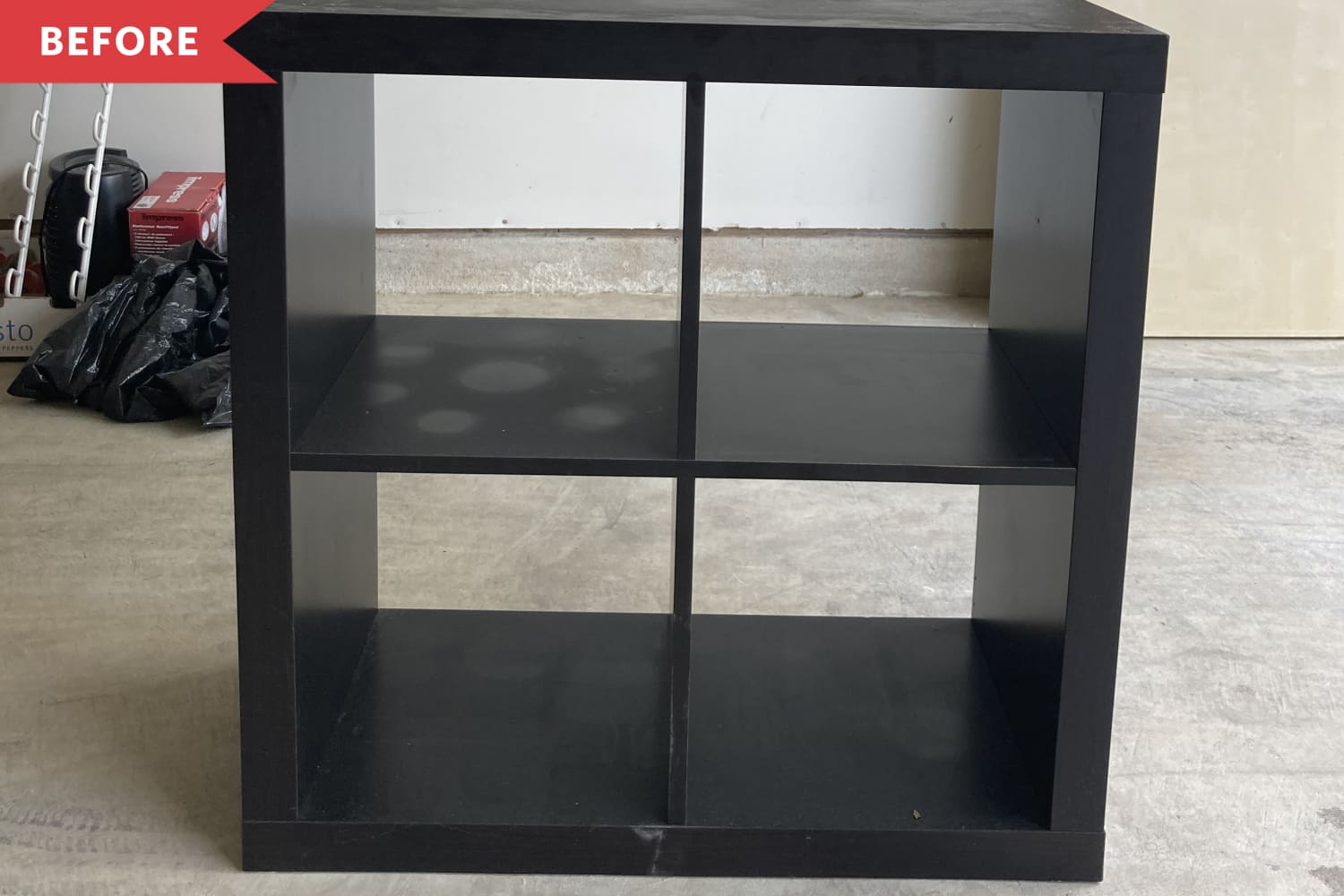 We independently select these products—if you buy from one of our links, we may earn a commission.
Not everyone can be an artist, if that term is defined solely by traditional items like a pen, camera, or canvas. But if artistry is broadened into the realm of IKEA hacks, then there are countless people who take these beloved materials and turn them into art. 
For the past year, we've watched as DIYers have turned to IKEA as a source of inspiration, making bespoke art out of pieces meant to appeal to the masses. While the phenomenon of furniture hacking is nothing new, it did seem like this year's creations raised the stakes.
Our favorite IKEA hacks of 2021 span a number of items that can be used throughout a house, from a bedside table to a living room bookcase. Our goal in this showcase isn't just to highlight how cheaply this work was done, but to also prove how DIY can be artistry at work. Each of the people in these stories had an idea of what they wanted to do and made it happen according to that plan. And as any creative knows, going from a thought to a finished product is no easy feat. Read on to see the 10 best IKEA hacks of the year, and you'll understand how it's possible for them to be known as artists, too. 
1. A Dresser Gets a Trendy Makeover for $20 and a Few Hours of Work 
Morgan Susice had a classic IKEA find — a white, three-drawer MALM dresser — that would've been perfectly fine as is. But she knew that its neutral appearance made for an ideal DIY canvas, so with only $20, she transformed it into something new. She sanded the surface and attached square dowels to the drawer fronts, and then painted everything in a trendy sage green. She added legs and black pulls for a final touch, and the dresser became a must-have in an entirely fresh way. 
2. Two Storage Units and a Countertop Become the Basis for a Stylish WFH Setup
Emily and her boyfriend live in a historic home full of architectural charm, but her guest space didn't have any of it. She dreamed of using the room as a functional office, and made a plan to do so for less than $500. Over the course of a week, she built two storage units from IKEA PAX parts and plywood, and then made a desk from the store's countertop selection. The desk sits in between the units, which were finished with MDF boards she cut curves into, and now she has a stylish place to get stuff done. 
3. A Place for Paperwork Is Made From an Old Shelving Unit and $40
Joana Bianchi found herself in a fun position: In helping her friends redo their bedroom, she had access to their old IKEA KALLAX shelving unit that was itching for a redo. So, as a good friend, Joana built supports and painted the box in a soft beige shade. After, she cut plywood to act as the doors, covered them in leftover burlap, and finished them off with matching half-circle pulls. In all, this transformation cost just $40, but will be used for years to come. 
4. A Neighbor's Discarded Dresser Becomes the Basis of a Tropical Redo
Claire Armstrong was in possession of a beat-up IKEA HEMNES dresser after a neighbor no longer wanted it, and she thought she could figure out a way to come to its rescue. After a deep clean, she covered it in a coat of navy chalk paint, and then covered the drawer faces with a trio of tropical wallpaper panes. Once she added the knobs, the dresser looked completely different — all for $40.
5. A Luxe-Looking Nightstand Was Expertly Duped for All of $70
DIYer Yurie fell in love with a linen-wrapped nightstand, but the only problem was that it cost $1,000. She thought she could DIY an alternative, and noticed that the IKEA LACK table was a similar size. She started by buying four of them — a pair for each side of her bed — and then filled the legs with 2×2 boards to prime them for drilling. She cut down one and placed another on top, creating a lower shelf of the same size. She then added boards underneath the top surface to make room for a drawer. After the structural work, Yurie carefully smoothed out the seams before applying a faux grasscloth wallpaper to the surface. As the finishing touch, she added a shiny ring pull to each of the new drawers. The final bill came out to $70 for each crafty nightstand.
6. A Basic Nightstand Gets a Bubblegum Pink Second Act for a Little Over $40
DIYer Marcus Merta moved into a new home, so he was in need of a new nightstand. An IKEA VIKHAMMER fit the bill for its minimalist build, but once Marcus was settled, it became a worthwhile project to update. He sanded the surface and spray painted it in a bubblegum pink shade, and then finished with a clear top coat. After, he used half-round molding to frame the front, and painted it to match. Finally, Marcus added a new knob, removed the legs, and mounted it to the wall, creating an entirely different look for around $42. 
7. Four Billy Bookcases Make a Boring Living Area Feel Much More Luxurious 
Claire Douglas thought her living room was spacious, but a bit blah. She wished she could hire someone to build bookcases to give it some character, but since that was outside her budget, she did the next best thing: IKEA. She assembled four BILLY bookcases, and then added MDF boards to fill in the gaps. Once they looked like a single unit that was a part of the wall, Claire painted everything white and styled the shelves using some greenery from her garden. The total cost totaled about $475, but it looks much pricier. 
8. An Open Console Table Gets Doors and a Glam Finish for All of $200
Starr Simpson and her husband David had been using KALLAX cube shelves in their office, but it didn't quite fit the style they were hoping to have in the room. They started to upcycle it by building doors from plywood, and then accented them with half-round molding in a square shape. It all was painted in a moody gray-green, and then they attached gold pulls for the doors. As a final piece, the couple added feet to the new console to give it elevation, even though the project stayed at a low $200.
9. A Boho Dresser Comes Alive With Patience, Creativity, and $120
The "farmhouse phase" Lisa Kasprzok was going through years ago can explain why her IKEA HEMNES dresser was originally painted a shade of gray. The style no longer suited her, and she decided to rethink the look with a more bohemian feel. She sanded the piece down and painted the top white, and then cut wood pieces to apply in a pattern on each of the door fronts. It was a detailed process, but once she added brass pulls as a final touch, she knew the $120 upgrade was worth it. 
10. A Basic Dresser Is Upcycled into a "Vintage" Dresser With Help From Library Catalog Pulls
Shayna Alnwick is a pro at flipping furniture, and her take on a IKEA HEMNES dresser proves that point. She started this project by sanding the entire item and then removing its ledges and pulls for a more square shape. Shayna then painted its surface beige before covering it in black, resulting in a rustic look, and then added library-card drawer pulls to the front. The result isn't just unique, but it passes as vintage — all for about $66.