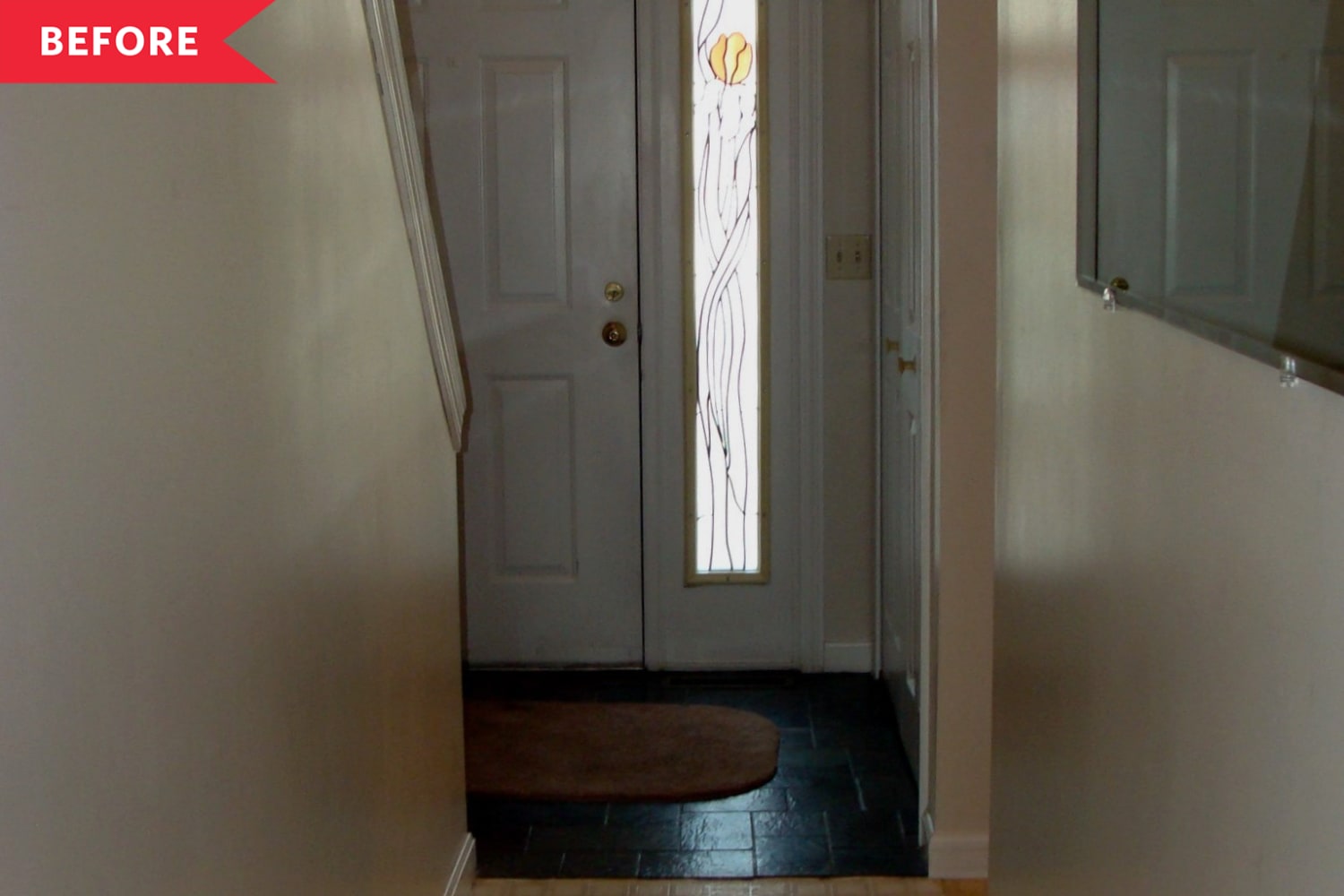 published about 1 hour ago
Entryways are often referred to as a home's first impression, and that's because there's no avoiding their part in welcoming visitors into a home. Even if you have a feast cooking and music playing and big hugs all around, a lackluster entryway will make its presence known. 
Given that level of authority, it's a good idea to think about how your entryway reflects your personality. These 10 examples show how others did just that, and they either realized that their entryway was one or more of the following: cramped, cluttered, dark, bare, or just plain boring (their words, not ours). These people then created a plan to change things up — whether they had a small budget or a larger one, or the ability to hire professionals or not — and figured out ways to make their entryways represent their style and needs. 
Sometimes this was as easy as painting walls white or adding a console, and other times this was as involved as removing whole closets and installing a wall of cabinets. Our point? Do what works for you, because when it does, it'll be for the best. Read on to see our 10 favorite entryways of 2021, and you might get ideas for how your space can improve next year. 
A Disorganized Entryway Gets an Expensive-Looking Upgrade for $130
When Michela Andrioletti and her husband moved into their home five years ago, they bought the most budget-friendly items for their entryway and never got around to changing them. Their style had changed since that mad-dash to furnish, and Michela wanted the spot that got the most traffic to finally reflect that taste. With $130 and a little over two weeks, she transformed the area with beadboard and subtle wallpaper, which perfectly contrasted the patterned floor. Then she added hooks and baskets for storage, alongside a mirror and vintage bench. Now everything feels much more presentable, and true to their sensibilities. 
An Entryway Closet Is Removed to Make for a Much More Functional Entrance
As is the case with countless traditional entryways, there was a small closet next to the front door of  Jessica Ceraldi's home that was primarily used as a "dumping ground" for clothes and other items. She didn't think the closet needed to be taking up so much space, and since the walls weren't structural, she had her husband take them down. They added new flooring and drywall, and then created a graphic accent using wood molding. The entryway's new appearance is much more stylish, and shows off the home's 20-foot ceilings above a bench and mirror. 
A Closed-Off and Dated Entryway Is Brought Into This Century By the Pros
Lynn C. loved that she could see from the front door through to the backyard of her 1986 condo when she bought the place, but she didn't particularly like how its entryway was in a dark and cramped hallway. Her plan involved opening up the staircase, painting the walls white, and installing wood floors throughout, all of which professionals got done. The open stairs made the biggest improvement, since now they let plenty of natural light in. 
A Drab Entryway Gets a Farmhouse Makeover Full of Good Vibes
Aly Heasman and her husband knew that their entryway was gloomy — it made them feel that way whenever they walked through the door. The walls were painted a dark shade of red and there wasn't any natural light, and it also didn't help that there was barely any furniture. They decided to go for a farmhouse theme, and painted the walls a bright white with a matching wood detail on the ceiling. They traded parquet floors in for new wood laminate, and then added beadboard wainscoting with a peg rail for storage. As for finishing touches, lots of plants and a schoolhouse pendant now help the space give off nothing but good vibes. 
A Few Important Details Took This Entryway From So-So to Spot On
Alissa Hagan had already worked on her entryway, including installing wallpaper, but there was something about its look that never felt complete. It also didn't help that the bench she added there didn't actually stay clean for long. Alissa was seeking a better system with slightly more style, and the solution came to her in the form of wainscoting and a peg rail. She painted the wood black to make it look like it was always a part of the house, and added accessories to make the whole area feel lived-in. But the best detail? She also changed out the light switches for the raven shade so that everything flows. And oh yeah: She did it all for $300.
A Cluttered Midcentury Entryway Gets Upgraded With a Clever and Stylish Bench
Lisa Kanegae's father-in-law has a home built in 1949, with a charming entryway between the two front doors — but that space was under-utilized, and usually filled with boxes and clutter. Since she had been honing her DIY skills, Lisa thought an upgrade would be great practice and also a much-deserved gift. Once the stuff was cleared out, she painted the walls orange (his favorite color and sole request), and then added a slatted wood accent on the walls with a coordinating bench. Then, with a few hooks and a gooseneck lamp, she was able to present a gift to her in-law that he loved. 
An Overstuffed Garage Becomes the Backdrop for a New Organizational System
Lisa Kanegae's own garage was also in a state of disarray when she moved into her home, and since it was the main entryway, she had to work on this project, too. She needed an area filled with storage to keep the house free of shoes, and so she installed another bench— this one has drawers — beside a wall of cabinets. Their blue shade and gold hardware pops against black-and-white flooring, which separates the space from the rest of the garage. Lisa's penchant for organizing cluttered areas into photo-worthy enclaves can't be ignored. 
A Century-Old Home's Entryway Was Refurbished to Respect the Past
Laura O'Brien lived in a historic turn-of-the-century home filled with many original details. In the entryway, for instance, the curved staircase and wide front door (with stained-glass details!) were beautiful, but definitely needed some work. Laura wanted to honor the home's history when she planned to upgrade the entryway's otherwise basic features, starting with painting the newly-installed wainscoting, door, and stair rails a moody black. She kept the actual stairs white, and added a neutral runner with good details for a fun accent. And with a modern globe light hanging in a vintage medallion, the entire entryway now has an ideal mix of old and new.
A Black Wall Makes a Once-Barren Entryway Feel Stylish and Welcoming
Liz Brown had been updating the loft she shares with her fiancé for years, but their bare entryway never got any attention. There wasn't enough storage or style until she made one dramatic change: Liz painted the main wall black. With that as a focal point, she added a floor-length mirror and a runner leading to it, with a coordinating console off to the side for storage. An existing art piece ties right in, and now the entire area feels much more inviting.
Vintage-Style Details up the Charm of This Once-Bland 1940s Porch
Lara Wilhelm's 1940s home came with a front door that was drafty and dented — so once she and her partner replaced it, the change made way for a whole host of small upgrades that completely transformed the look of their home's front entrance. A new beadboard ceiling with a natural wood finish feels 1940s-perfect, as does the new schoolhouse-style light fixture. Now, even though the porch is full of new additions, it's also full of retro charm.