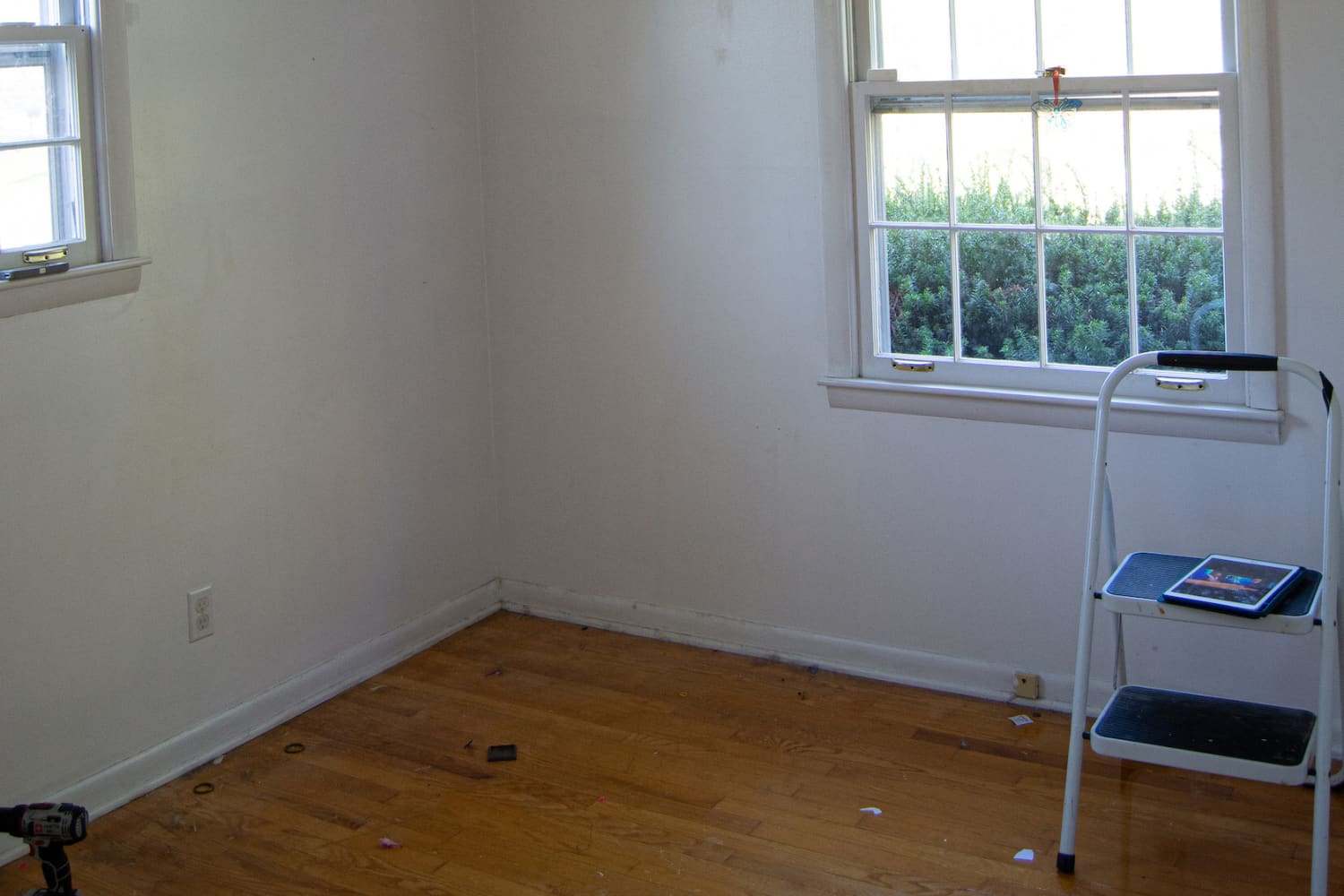 As you're bookmarking before and afters and taking careful notes on impressive DIY processes, have you ever stopped to wonder how the spaces look days, weeks, or months later? Did the transformations stick? Did they make way for other, more drastic changes? It's time to find out.
In honor of closing out 2021, Apartment Therapy checked in with five DIYers whose before and afters were featured this year to see where their projects stands today. They're spilling everything: Whether they still love it, what they've changed, and what did not stand the test of time. Read on to get the low-down.
"One thing that's changed is the treadmill."
Back in March, Katherine Thewlis's 10-foot-by-10-foot space with popcorn ceilings and minimal charm got a complete redo. She utilized every inch of its 100-square-foot imprint to enable the room to serve as a home office, crafting room, gym, and homeschooling center.
Katherine, whose design studio is called Hausmatter Interiors, packed contrasting color and pattern, set against a light gray backdrop, into the small space, and added picture frame molding and a ceiling medallion to give the room character. One of her most clever hacks was hiding a treadmill out of Zoom eyesight by strategically placing a folding velvet screen.
What Katherine says now: "I still love the transformation. We use this room a lot!"
But, she says, "One thing that's changed is the treadmill. I moved it. I think it was wishful thinking, but I didn't use it often and now I'm able to get my workouts in at a yoga studio. In a space this small, any wasted space is felt immensely, so if anything doesn't feel functional, it gets the boot! I think the gym area served me for a few months during the pandemic shutdowns, but now the extra space is appreciated."
"It's so fun to see how much we've improved."
When @renorowhome's Anna Luttrell and her husband Josiah bought a 1904 row home, they set out to DIY it — all of it. The couple taught themselves demo and everything that follows. By employing their own elbow grease, they kept the project under $13,000 for the entire kitchen and incorporated striking elements like cement countertops. 
One of the biggest impact projects included removing layers of ceiling tiles to open up the ceiling, expose the rafters, and make the space feel both industrial and airy.
What Anna says now: "I still love my kitchen! It's my favorite room in this house. But we actually bought another fixer-upper in Baltimore, only a few blocks away, so I miss this kitchen and just hanging out in the house. We currently rent out the house, so I still get to go back to it when we clean it in between stays."
However, Anna notes, "the kitchen gets a lot of traffic and use from our renters, so with that in mind, I wish I had used a more durable countertop sealer."
But open shelving has been great for renters and guests, who can find dishes and other essentials easily, Anna says. "I still love the layout, industrial look, exposed beams, and kitchen island. I wouldn't change much about it and it's been fun to share the house with our renters!"
Now, Anna and Josiah are renovating their new home — another 100-year-old Baltimore row home — and have been taking on each room one by one. "It's been great to continue to use the skills that we learned from our first home. We're currently working on the bathroom and it's been so fun to see how much we've improved."
"I still walk in and just stare at it."
Anika Gandhi, of Anika's DIY Life, was faced with making something welcoming and light out of a 'shades of brown kitchen.' In addition to brown on brown on brown, the kitchen also had a cramped layout with minimal counter space. It didn't work with Anika's cheery home or her family's desire to spend time together in the kitchen.
She brought in contractors to close a window (gasp!), but the result is actually a lighter and brighter space thanks to the removed soffits and bright white countertops. After bringing in the pros, Anika DIYed new floors, cabinets, a backsplash, and floating shelves. It was a major undertaking over four months, but it clocked in at only $10,000 for the entire kitchen renovation. 
What Anika says now: "The kitchen makeover is still one of my favorites. I still walk in and just stare at it. I wouldn't do it any other way! Since the original makeover, we have made a few small additions, including under cabinet lighting, but nothing major. It is definitely my dream kitchen!"
"We actually spent more time on it this year."
Years of looking at an 'unusable' backyard inspired Jen Rothbury of @cracktheshutters to toss out the trampoline and take a plunge in a new hot tub. In other words, she took a less-than-functional outdoor space and created a four-season retreat. 
Over two weeks, using "a lot of physical effort but not too much skill," Rothbury and her husband transformed their yard in budget-friendly fashion by laying a patio with pavers leftover from their driveway and using spare wood pallets to create a seating area. They added twinkly ambiance by building a pergola and stringing lights and an outdoor movie projector screen. The rest of the yard was covered in gravel to make sure not only is it functional year-round, it's also low maintenance. 
What Jen says now: "We still love the garden project, and we actually spent more time on it this year to transform the area near the hot tub further. Due to limited budget in 2020, we just built the pergola and laid gravel, but this year we decided to tile it and create two areas: an outdoor dining and outdoor living area. We did all of the work ourselves — digging out, leveling, concreting, and tiling, and it was exhausting but satisfying! We spent lots of lovely days and evenings out there this summer and we are so delighted with how it turned out."
"I'm actually sitting here right now!"
The story of Haley Jones' thrifted desk transformation is a familiar tale almost two years into the pandemic. Two people working from home are forced to carve out workspaces. They use makeshift furniture and make it work. But Jones, who blogs over at Me and Mr. Jones, took her WFH desk to the next level.
After finding a perfectly-sized console table, she used black chalk paint and a matte top coat to cover a bold red that didn't feel right in her home. Then, she had a remnant piece of marble cut at her local fabricator's shop and honed to a matte finish. The final tally: $40 for the desk, $8 for paint, and $240 for the marble top.
What she says now: "I still love the desk," Haley says. "I'm actually sitting here right now! It's great to have a small workspace of my own and has made working from home much more productive."