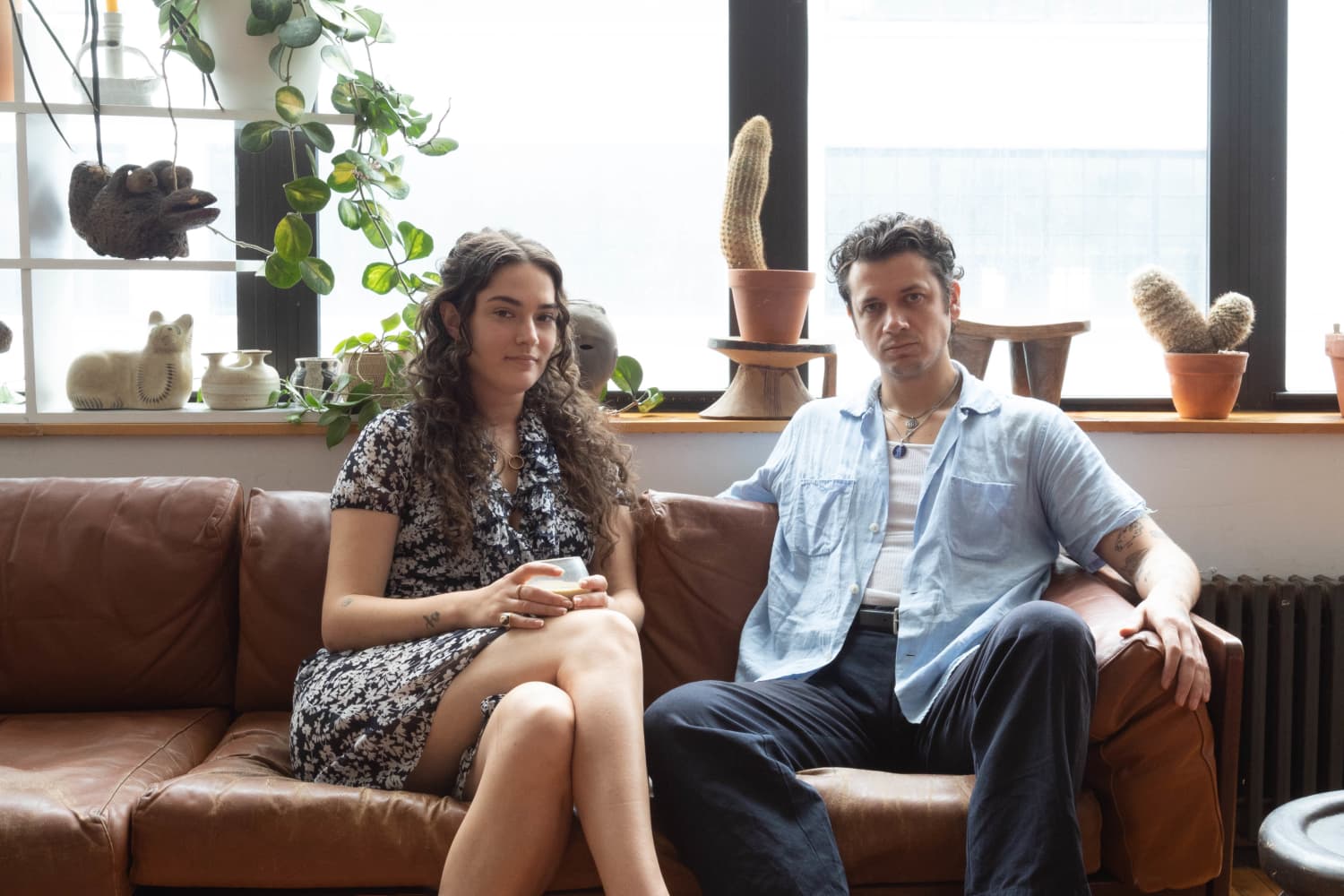 We independently select these products—if you buy from one of our links, we may earn a commission.
Name: Lily Harris (she/her), Llew Mejia (he/him), and three cats (Spooky, Poe, and Wody, one Sphynx and two Cornish Rexes)
Location: Bushwick, Brooklyn
Size: 700 square feet
Years lived in: 2.5 years, renting
"We do not remember where half of our stuff is from," shares Lily. "We don't buy a lot of new things, we pick up antiques when we see them during moves and travels, and we have found a lot of free gems from people moving in and out of New York." Fashion designer and Holistic Health Practitioner Lily and her partner, Llew, an illustrator and folk tattoo artist, have moved around the United States a lot (though NYC has been their home for six years now) and the only things they've really kept from move to move are their antiques. Antique furniture and decor are on full display in their space, including a set of monogrammed trunks passed down from Lily's great-grandfather, an antique armoire that Llew found, and treasures from their visits to the flea market and travels. 
The 700-square-foot apartment also checks a lot of items on their list of design aesthetic must-haves. A wall of windows, a feature they prioritized when looking for a new space, provides a lot of natural light in their open loft industrial space. The windows make the space seem more open, highlight the tall ceilings, and display all of their antiques and found pieces. However, windows are just one of the features that make this apartment the right home for the couple. It also allows them to find a happy work-life balance; they find enjoyment in being near friends, having easy access to work, and having a space that supports their love for antiques, books, and plant life.
"It's conveniently located between where our friends live across Brooklyn, Lily's full-time job in Midtown Manhattan, and we love our cozy neighborhood spots like Pearl's Social & Billy Club and La Cantine," they wrote. "We work a lot! Llew runs his tattoo studio in a separate space on the first floor of the building. Lily works from home in both fashion and holistic nutrition right now. We spend a lot of time in our apartment, and New York is a place where it's hard to find personal space, so we want our apartment to feel like our home."
Apartment Therapy Survey:
My Style: We've both moved around a lot, now landing in NY for almost six years, which is hard to believe. The only things that we've held onto through the moves are antique. We lean towards warmer colors, leather, and wood. Lily is from Minnesota, while Llew moved around between Mexico, the Southwest, Minnesota, and more, so our space tends to look like a mix of our previous homes.
Inspiration: We've collected pieces for our apartment to pair with the pieces that we've kept through moves. I have a set of monogrammed trunks from my great grandfather, which have seen a lot, and Llew collects antiques. We like to go to flea markets, where we've found a few treasures.
Favorite Element: We have become a two-couch household. Llew happened to be moving studios, with an extra couch and nowhere to put it, so we brought it into our living room. Now we can spread out and our guests always have space to sit. We'll never go back to having only one couch. 
Biggest Challenge: Living in a small Brooklyn space can be a challenge. If you collect things, they accumulate quickly and personal space as a couple can be interesting. We have a tiny oven (meant for RVs) with unreliable temperature settings, and Lily cooks a lot, so that can be a challenge, especially for baking bread. We both love clothing, so more closet space would be nice. If we could change anything else about this apartment, we'd add a full bathtub, add a real bedroom door for a bit of separation, and maybe find a quieter upstairs neighbor. Also, we have too many books. 
Proudest DIY: Our friend Rob Bezrutczyk runs a CNC fabrication studio, Thirdkind Studio (and Instagram here) in Bushwick. He created custom pieces for us that elevated our space including kitchen shelves, bedroom shelving, light fixtures, and a curtain rod. We don't know what we would have done without his skills and perfectionism. Beyond that, we tore out the cheap and completely worn down "IKEA-looking" bathroom fixtures and replaced them with vintage pieces, which helped a lot.
Biggest Indulgence: As we've mentioned, we love our vintage couches. Llew collects antiques and oddities, which can be fragile items to handle and maintain, especially with three active cats prancing around. Lily has a slight addiction to ceramic mugs, but Llew has cut her off from buying more… for now.
Please describe any helpful, inspiring, brilliant, or just plain useful small space maximizing and/or organizing tips you have: Lily is an introvert and Llew is an extrovert, so when it comes to finding personal space and alone time in a small Brooklyn space, Llew goes out on the town often, giving Lily some time to decompress in the form of face masks, home cooking, and reading.
Finally, what's your absolute best home secret or decorating advice? Having moved quite a few times, we've learned that the cheap things we've purchased in the past just to make do get thrown out quickly, so we no longer buy them. Buy timeless pieces that you plan to keep for life and don't bother with the rest. 
This house tour's responses were edited for length and clarity.