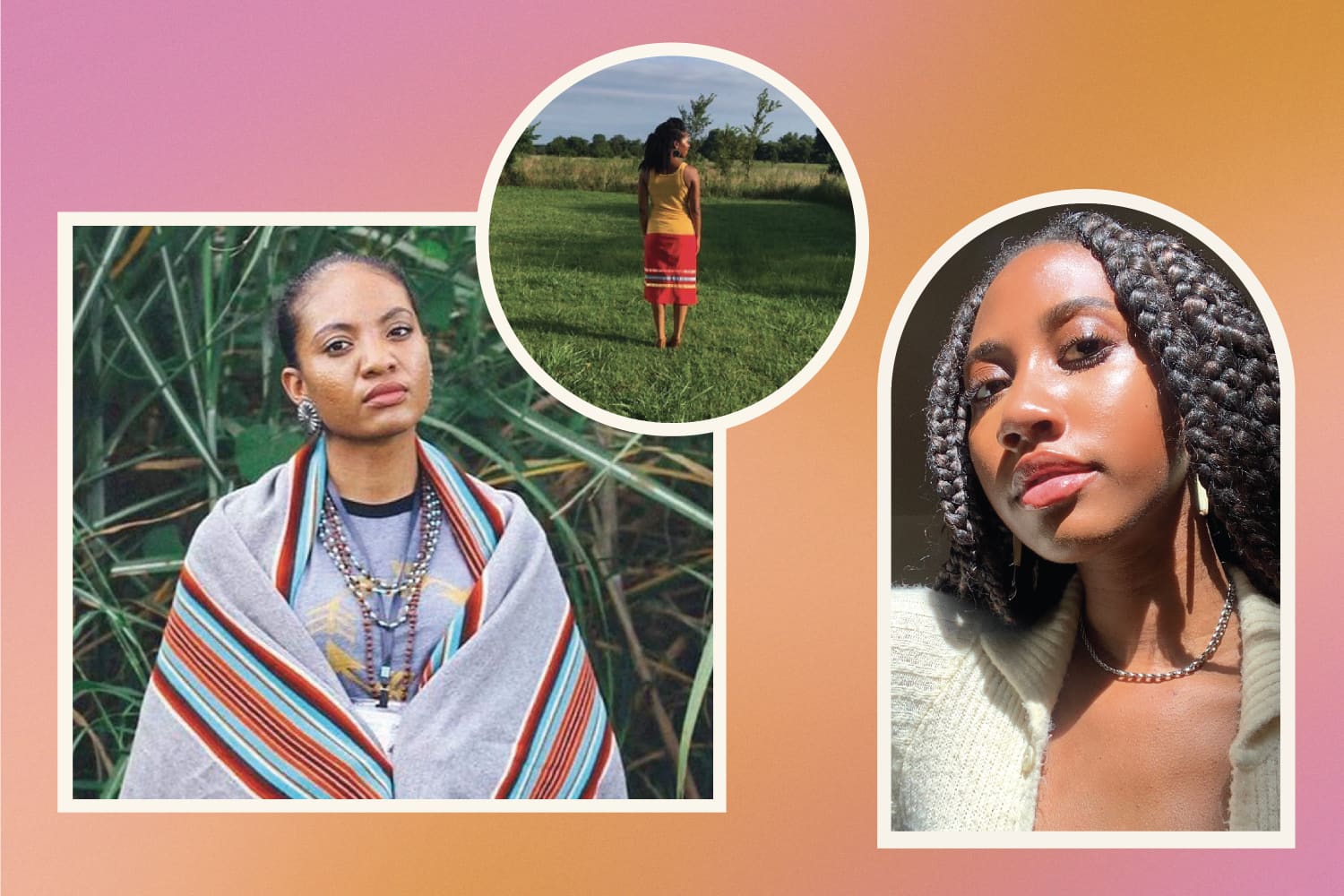 The concept of home always holds a special resonance for Native communities, whether they are firmly planted on the land their ancestors have cultivated and protected for centuries, or within personal spaces where that connection is maintained and strengthened through ceremony, textiles, food, and more. There is no shortage of ways that the Native community celebrates itself among its hundreds of tribes, including powwows and gatherings that honor and exalt their rituals and traditions. 
Much of these relationships are sacred, and a deeply private way of staying in conversation with ancestors. Other parts of these bonds are visual and tangible displays of pride and love that elevate the work of artisans, serve as ties to generations past, and carry a sense of heritage into the future. And rally cries, including those for the Dakota Access Pipeline protest where people from all over the country stood in solidarity with the Standing Rock Sioux Tribe and the LANDBACK movement that calls for Native lands to be returned to their original stewards, are helping the broader American public better understand how  Native communities celebrate their heritage and identity in a way that is joyful and meaningful, instead of appropriative.
This connection is uniquely layered for Afro-Indigenous peoples, whose cultures combine the rich histories of being both Black and Native. This is a heritage shared by many all over the world, with a centuries-long lineage in this country punctuated by joy, pain, ritual, and discord. My own family has roots in the Blackfeet Nation that manifested in stories about things people would say to my great-grandfather about his Native heritage, as well as the real history of that November "holiday." But most of my upbringing was firmly grounded in Blackness, so now I'm exploring what it means to feel connected to this country in another way. It's a journey with so much to learn at every turn, that is made even more fulfilling by tapping into the powerful online network of Afro-Indigenous women who are defining their heritage on their own terms and showing how their culture shows up in every inch of their lives.
Here, three Afro-Indigenous creatives share what home means to them, how they connect to their heritage in their personal spaces, and what they're looking forward to.
"I grew up in the Southwest, where we really believe in elevating and celebrating our heritage. My mom is a big collector, so that's part of what we do. We adorn our house with so much beautiful art and textiles from our Navajo culture, but also much of what is intrinsic to the Southwest. We also incorporate our African side, so it's a mixture of both and they complement each other so well.
Our house is beautiful and it has tons of beautiful pieces that are displayed. The support for our artists is important to us, especially honoring those who are longer with us. This is really sacred for us because it's our art history. It's like having the Native version of a Van Gogh in your home. So we have tons of pottery and baskets and we're really big on textiles. Each one of our rugs has its own story, even though someone outside of our culture may look at them and think they have the same design. Each weaver is different and special and we can tell.
We live in the very same homeland where my ancestors lived, so there is a lot of history here in Besh-be-toh, Arizona. It goes back many generations, so it's pretty cool. It's amazing to know that I could just walk outside and know that they were there and that they'll always be there. My closest neighbors are my family members: My grandma is, like, a mile away. We're spread out, but not far away from one another, which is a big plus and different from living in the city. 
Part of our homestead is our livestock. We have horses, cows, sheep, pigs, you name it, and all of that plays a big factor in our cultural life. We have a garden as well. So when I say 'home' and talk about Indigenous luxury, that's what I mean. It's not always about having a big mansion and material things. It's really about the simple things, the culture, and the history that I get to carry forward. When I walk outside, I have views for days that I can gaze upon and that's priceless."
Model and Writer
Chappaquidick Wampanoag 
"I have a lot of different woven baskets that I've received from family members and powwows, which, if people aren't familiar, are essentially large ceremonies and they're a big part of Native American tradition. One of the largest powwows for our tribe is the Mashpee powwow — they're our sister-cousin tribe; they're Mashpee Wampanoag and we're Chappaquiddick Wampanoag. Vendors will be at events and ceremonies like that, [and] it's almost like a fair in a sense, in that you can see from the larger community and family what creations people have. I love picking up art at events like those and incorporating them into my home. One of my favorite baskets is this light beige and brown woven piece that's probably a little larger than a dinner plate. I love incorporating Native art and heritage into my personal space.
The Wampanoag tribe is mostly known for leathers but also wampum, which are the shell of a quahog. Inside, it's a beautiful white and purple shade combination. That's the shell and the tool that we use to make a lot of our jewelry and belts in woven pieces. And it was also something that was used to communicate and storytell a long time ago by our ancestors, but wampum is still used today. I am actually thinking about getting into wampum-making personally, but a lot of the artisans are experts with carving, cutting, and incorporating wampum in those pieces into art.
In the digital age, that includes the advent of social media. Being online and connecting to people's websites, Etsy accounts, and Instagram feeds are ways I keep up with Native art and artisans. I've been very big on TikTok as well, and I've met a lot of designers and artists there. I really appreciate that because it can be nice to support Native art that isn't just from your tribe. It feels like supporting cousins in a way.
The other home ceremony and practice I rely on is smudging. I think people are coming around to learning about the traditions and practices that they shouldn't appropriate, which I appreciate. Smudging is ceremony, essentially, and it's an Indigenous practice. We use white sage, but there's also prairie sage that a lot of Southwestern and Plains people use. It starts by burning up plants and herbs in a bowl that's clay or in shells. My mother has a beautiful shell at her home with a white sage bundle.
I've just moved places so I'm waiting until I can go myself and pick out a shell on the beach when I go to Martha's Vineyard because I like having those [personal] touches. Sage eliminates negative energies and is known to promote health, wellbeing, and clarity from our ancestors. You can also burn cedar, sweetgrass, and tobacco as well (it's not just for smoking). It can be seen as a bridge between the human and spirit world. We also practice returning the ashes back to the soil outside just to show respect. I feel like a lot of people don't know that, but it's part of the full practice.
I speak a lot about the lack of inclusivity in the Indigenous community; just in general in society, it can be difficult navigating as a mixed person. Representation and treatment are not where they should be, but I see them getting a bit better and I'm really hopeful for that. Even being asked to speak about my perspective and practices as a half-Indigenous woman makes me feel very grateful. I feel that a lot of people are making an effort to learn about cultural practices and to not appropriate. I'm looking forward to having more conversations [and] better dialogue with people that are Native and allies, showing my creativity more, and being involved in creating opportunities for myself if I don't get them externally."
Activist, Cultural Critic, and Organizer
Mvskoke
"My office is the place where I do all my work around Black liberation and Indigenous sovereignty, so I wanted to make sure that space was filled with artwork that represented the people I come from: Both Black and Native. It was and is important that this space be filled with reminders of who I'm doing this for, my people. I center my Indigenous identity in my Mvskoke identity and heritage because that is the community I am most connected to. So all of my Native print work in my office is by Mvskoke artists. I also have a sculpture of a little Native girl sleeping on a drum which my late father gave to me when I was young.
I always wear beading or Native jewelry to celebrate being Indigenous. I learned how to bead during quarantine in hopes of saving money on beading, but I still buy beaded bling because Native beaders are simply geniuses with their craft. The beauty and time that goes into each piece is a celebration of our cultures, our beauty, and our resistance to assimilation. How could I not buy more? My most important piece is a pendant by Mvskoke/Seminole jeweler Kenneth Johnson. It is a turtle with a Mvskoke symbol on its back. It's a constant reminder of who my people are and the responsibility I have to reconnecting with and honoring them.
My homestead is not the home I live in currently, but instead my grandma's home in Oklahoma. I think of her home as the family homestead because that's what my grandmother has always called it. It's the land that my third-great-grandma was allotted during the Dawes Act after my people were dispossessed of our homelands in Georgia and Alabama, forced to walk the Trail of Tears, and removed to Indian Territory in Oklahoma. So the family homestead holds a really special place in my heart and I see it as a place of great importance. It's a reminder of how our people survived and endured under this ongoing project of settler colonialism. How we've managed to hang onto my grandmother Katie's property is pretty amazing to me. When I go there, I feel such pride and such honor. I hope to protect it and keep it in the family."
These interviews have been edited for length.