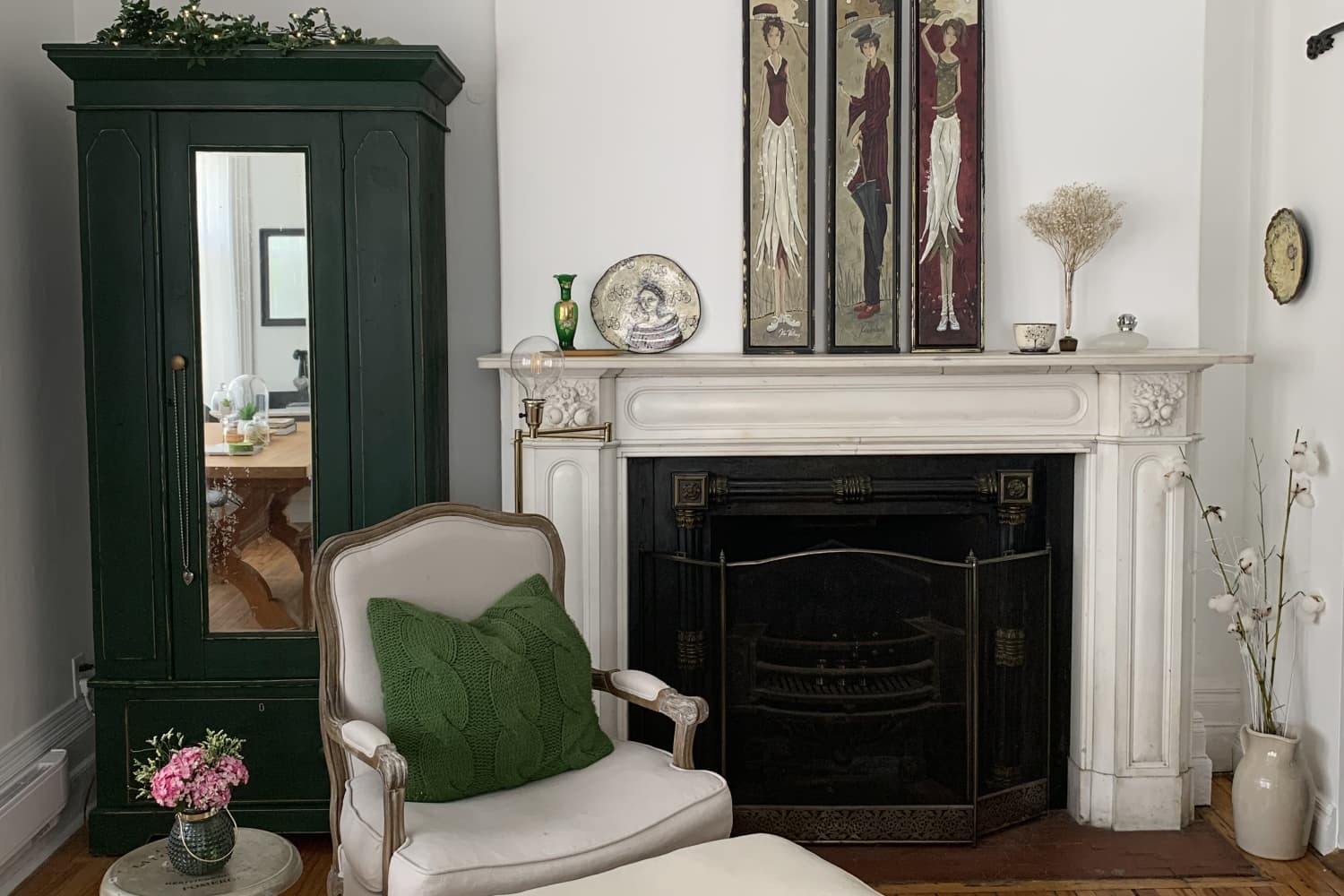 We independently select these products—if you buy from one of our links, we may earn a commission.
Name: Marie-Helene Cote
Location: Quebec City, Canada
Type of home: Studio
Size: 275 square feet
Years lived in: 3.5 years
Tell us a little (or a lot) about your home and the people who live there: It is a complex of five units. It is 100 years old. It is classified as heritage because it is situated in the fortified Old Quebec. The location and the architecture of the building are prime real estate. My unit is the smallest of them all. As far as I am concerned, it is my little haven in the city because my primary house is in a small village of 1,000 locals.
I like white walls. I do not see myself as having a particular genre. I fall in love with a piece, whether it's furniture, an accessory, or art, and that is it (if I can afford it of course). I realized that I have a particular attraction to Danish design, but who does not?
I like pottery. Melissa Fillion/Usine60 is my favorite! My favorite painters are Louise Lauzon and Kim Veilleux. I would like to say that I am also attracted by minimalism… but I will never achieve it. I get distracted easily, so to me, it is very important to keep things tidy to avoid endless search, but minimalism is a bit extreme. But one never knows!
Describe your home's style in 5 words or less: Paris, meet your French-Canadian sibling.
What is your favorite room and why? Living in 275 square feet, the choice is narrow. However, I will say my kitchenette (if it qualifies as a room). Why? Because of the challenge it represented when I rented this place. I don't eat meat. I knew not having a range was not an issue.
However, I like to cook and was able to get everything I need to. I believe I have achieved balance between practicality and aesthetic. To me, it is a quirky space, and it reminds me of tiny kitchens I have seen in Europe.
What's the last thing you bought (or found!) for your home? Dinnerware from Ladelle. Clay colour and irregular shape is a modern twist on artisanal.
Any advice for creating a home you love? First, you need to establish what you need and NOT desire. Make a list before you started apartment hunting. For me, I did not want to have to shovel snow in the winter. Size was also important, as was price. Once you find something you like, do not be afraid to negotiate with your landlord. If you have particular manual abilities, it might help lower the price of the rent. In my case, I did a drawing of what I wanted to accomplish in the studio and showed it to the owners and requested them to pay for the materials I needed, and they agreed. They were so impressed with the end result that all my subsequent requests were always granted. (Be reasonable.)
Also, do not buy furniture that only will fit in the current apartment. It is a bad investment. Wait for the right pieces to come along. Be mindful of the material you will use to decorate so as not to damage the property; treat it as your own. In most apartments, storage is a problem. Use as much furniture with storage as possible. Same thing for your accessories — they should have a dual function. Be creative with what you already own. It will procure you immense satisfaction, an original piece, save you a ton of money, and yes, it's so much better for the planet.
This submission's responses and photos were edited for length/size and clarity.